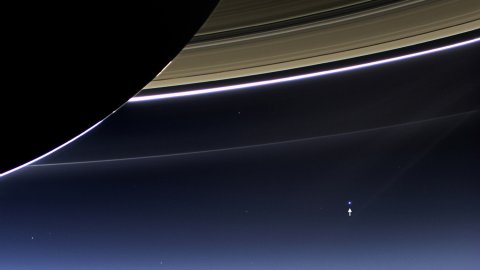 Astronomers call earth "the blue planet," because when you look at it from space, it often appears blue. That's because most of the earth is covered with water, which reflects blue light better than the other colors of light. So when white light from the sun hits the earth, more blue light is reflected than any other color (as long as there isn't an enormous amount of cloud cover).
The Cassini space probe that is currently in orbit around Saturn recently had a chance to photograph the earth. It appears as the tiny blue dot pointed out in the photo above. Please click on the photo to get the full-sized version. It really is magnificent. At the time the photo was taken, the earth was 898 million miles away from the Cassini space probe. Nevertheless, it appears as a vivid blue dot on a mostly dark background. In addition, if you "zoom" in close enough, you can actually see the moon orbiting the earth: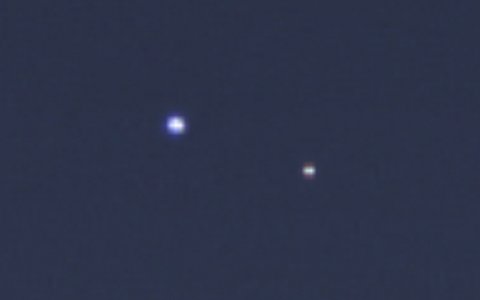 Notice the differences between the earth and the moon. The moon is smaller, but more strikingly, it appears a stark white next to earth's blue.
The earth has been intricately designed as a haven for life. Its blue color is a beacon proclaiming that, and the beacon can be seen from nearly 900 million miles away!