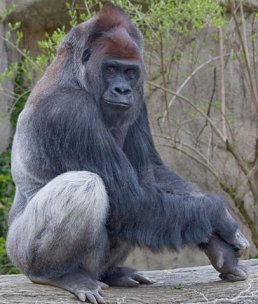 There is a vast gulf between humans and the great apes. While we share some superficial similarities with them, they are dwarfed by significant differences. For example, most (but not all1) evolutionists think that our closest living relative is the chimpanzee, because our genomes are the most similar (72%-95% similar, depending on how you make the comparison). Nevertheless, there are distinct anatomical and behavioral differences between humans and chimpanzees. Indeed, nearly every bone in the chimpanzee body is individually recognizable as chimpanzee and not human simply by its shape and size. Humans and chimpanzees also have different postures, different means of moving around, and different methods of obtaining food. Of course, the biggest difference between chimpanzees and humans is that of intelligence. People have a level of intelligence not seen anywhere else in creation, and it is apparent through our ability to create amazing technologies, produce breathtaking works of art, develop philosophies, and communicate across the generations.
But wait a minute. Haven't experiments shown that apes can communicate in a very sophisticated way? If you read too much of the popular press, you might think that's true. However, consider the words of Dr. Jonathan Marks, Professor of Anthropology at UNC-Charlotte and an expert on communication in apes:2
For all the interest generated by the sign-language experiments with apes, three things are clear. First they do have the capacity to manipulate a symbol system given to them by humans, and to communicate with it. Second, unfortunately, they have nothing to say. And third, they do not use any such system in the wild…There is in fact very little overlap between chimpanzee and human communication. (emphasis mine)
So what is it that produces the remarkable difference between apes and humans when it comes to communication? Evolutionists thought they might have at least a partial answer to this question. If you look in detail at human genes and chimpanzee genes, you see some remarkable differences among those genes that deal with hearing. As a result, it has been widely suggested that the human lineage experienced "accelerated" evolution in its hearing genes, which in turn produced our ability to utilize language, which in turn produced our ability to communicate in a sophisticated way.
Not surprisingly, additional data have falsified this evolution-inspired notion.
The genome of the western lowland gorilla was recently sequenced. According to most evolutionists, the human and chimpanzee lines split roughly three million years ago, but the gorilla line split from the human/chimpanzee line seven million years before that. As a result, it was expected that the gorilla and chimpanzee would be more similar in their hearing-related genes than the human and chimpanzee, since neither gorillas nor chimpanzees have a sophisticated means of communication. However, quite the opposite was found. In fact, the human and gorilla hearing genes are significantly more similar.3 As one of the authors explained it to the press:
We found that gorillas share many parallel genetic changes with humans including the evolution of our hearing. Scientists had suggested that the rapid evolution of human hearing genes was linked to the evolution of language. Our results cast doubt on this, as hearing genes have evolved in gorillas at a similar rate to those in humans.
How do evolutionists explain this issue? They do what they always do when structures or genes don't fit the evolutionary pattern. They chalk it up to "convergent evolution," the idea that evolution often comes up with remarkably similar structures in distantly-related species by sheer coincidence. As another press outlet reports:
Scally [the lead author of the study] adds that it could well be that there has been a parallel acceleration in these genes for two entirely different reasons – that human hearing has developed because of speech and gorilla hearing has developed to serve an entirely different, but as-yet-unknown, purpose.
As I have mentioned previously (here, here, here, and here), the constant need for the concept of convergent evolution is a serious problem for the hypothesis of evolution. After all, when two structures (or genes) are similar in different species, how can you tell whether it is the result of common ancestry or convergent evolution? First, you check the hypothesis. If evolution can accommodate the common ancestry explanation, then the similar structures (or genes) are the result of common ancestry. If not, they are the result of convergent evolution.
This practice definitely preserves the hypothesis, but it does so with absolute disregard for the data themselves. Some might call that "science." I most certainly do not.
REFERENCES
1. John R. Grehan and Jeffrey H. Schwartz, "Evolution of the second orangutan: phylogeny and biogeography of hominid origins," Journal of Biogeography 36:1823–1844, 2009.
Return to Text
2. Jonathan M. Marks, What It Means to Be Ninety-Eight Percent Chimpanzee, University of California Press 2009, pp 182,184
Return to Text
3. Aylwyn Scally, et al., "Insights into hominid evolution from the gorilla genome sequence," Nature 483:169–175, 2012.
Return to Text