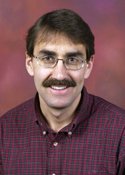 Dr. Eric Hedin is an Assistant Professor of Physics and Astronomy at Ball State University. He has 38 peer-reviewed publications to his credit in such diverse fields as integrated optics, electromagnetic theory, and nanoscience. He has also been put on notice by the Inquisition, because he is vehemently suspected of heresy. Why? He teaches a course called "The Boundaries of Science," which seems to come from a (gasp!) Intelligent Design point of view.
There are actually two versions of the course: Astronomy 151 and Honors 296, the latter of which is one of three courses a student can use to fulfill his or her science requirement in the Ball State University honors college. The honors course description, which is similar to (but not the same as) that of the non-honors course, says:
In this course, we will examine the nature of the physical and the living world with the goal of increasing our appreciation of the scope, wonder, and complexity of physical reality. We will also investigate physical reality and the boundaries of science for any hidden wisdom within this reality which may illuminate the central questions of the purpose of our existence and the meaning of life.
That sounds like a very interesting course to me. In perusing the bibliography of the non-honors version of the course, I see that it includes intelligent design advocates, such as Dr. Michael Behe and Dr. William Dembski. However, it also includes opponents of intelligent design such as Dr. Charles Wynn and Dr. Hubert Yockey. In addition, there are theistic evolutionists such as Dr. Paul Davies and old-earth creationists such as Dr. Hugh Ross. There are several Christians on the list, including Dr. John Lennox, but there is also at least one atheist (Dr. Roger Penrose) and one person of the Jewish faith (Dr. Gerald Schroeder). There are also several whose religious persuasions don't seem evident from their writings, such as Dr. Michael Seeds and Hans Christian Von Baeyer. Is it a balanced list? No. It is weighted towards Christianity and intelligent design. Nevertheless, most views that exist among scientists seem to be represented.
So what's the problem? The Inquisition has decided that the course smells of heresy.
Dr. Jerry Coyne wrote a blog post stating that Dr. Hedin is teaching "…a course in accommodationism and Christian religion, with very little science." He was so infuriated that a physics professor would dare challenge the Atheistic Orthodoxy that he is trying to enforce, Dr. Coyne wrote a letter to Dr. Hedin's department chair. To Dr. Coyne's amazement, the department head was very supportive of the course, and he also made it clear that the dean and associate dean of the Honors College were both aware of the course's content.
Rather than accepting the judgement of those who actually know what is being taught in the course and who are familiar with Dr. Hedin's teaching methods, Dr. Coyne decided it was time to bring in the Inquisition. In his own words:
This will now go to the lawyers.
Andrew L. Seidel, a staff attorney at the Freedom from Religion Foundation wrote a letter to Ball State University, stating that the class is not an honest investigation of the intersection between science and religion, that it poses serious legal issues for Ball State University, and that it damages the university's reputation. As as result, Ball State University says:
The university received a complaint from a third party late yesterday afternoon about content in a specific course offered at Ball State. We take academic rigor and academic integrity very seriously. Having just received these concerns, it is impossible to comment on them at this point. We will explore in depth the issues and concerns raised and take the appropriate actions through our established processes and procedures.
I was on the faculty at Ball State University for many years, and I found it to be a fairly open place for academic inquiry. The chemistry department was particularly closed-minded, but the university as a whole seemed open to a serious discussion of all issues, including those related to religion. I do hope that the threats made by the Inquisition do not cause that to change. I have no idea what is taught in Dr. Hedin's class, but I suspect that it pales in comparison to what is taught by many atheist professors in their classes. As a result, I would hate to see Ball State University cancel this class or remove Dr. Hedin simply because it is being pressured by one of the High Priests of atheism. I encourage my readers to sign a petition in support of Dr. Hedin:
http://www.academicfreedompetition.com/
Not surprisingly, I have already signed it.
Before I finish this post, I want to point out that this course has caused a schism in the Church of Atheism. While High Priest Dr. Jerry Coyne considers this something that must be stopped, other High Priests (such as Dr. Larry Moran and Dr. P.Z. Myers) disagree. They both think the course is mostly nonsense, but they don't think it is something that should be stopped from the outside. Dr. Myers (my favorite atheist) says it best:
… academic freedom is the issue here, and professors have to have the right to teach unpopular, controversial issues, even from an ignorant perspective.
I wholeheartedly agree. I would never support trying to get a university to stop offering a course on atheism, regardless of how abysmal the bibliography or how nonsensical the professor. A university should be a place where all ideas are discussed openly and honestly in an effort to find the truth.
There is no room for the Inquisition on a university campus.