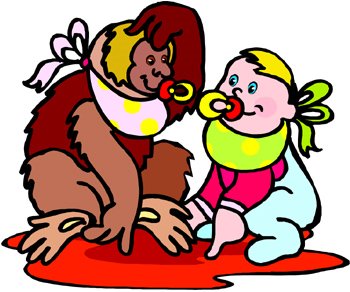 As you can see by the links on the right, I am a fan of the Discovery Institute. As its website says, "The Institute discovers and promotes ideas in the common sense tradition of representative government, the free market and individual liberty." Those are three concepts that are very near and dear to my heart. As a result, I get their Discovery Institute Views, and I read with interest the Summer 2010 edition.
On the front page of that newsletter, there was an article about Wesley J.
Smith, senior fellow at the Institute's Center for Human Rights and Bioethics. He is a champion of human exceptionalism, the seemingly obvious concept that people are more valuable than other forms of life on this planet. At first, it seemed a bit odd to me that this concept needs a champion, since it is, as one of my chemistry professors used to say, "intuitively obvious to the most casual observer." As I learned from the article, however, there are people who actually attempt to argue against this self-evident idea.
One such person is Peter Singer, professor of Bioethics at Princeton University and laureate professor at the Center for Applied Philosophy and Public Ethics at the University of Melbourne. In 1979, he published a textbook called Practical Ethics. In 1993, a second edition was published, and that's the one I found at the library. After skimming parts of the book and reading other parts, I can definitely say that this is one guy who has taken the hypothesis of evolution and twisted it into lunacy.
Now before I go any further, let me make two points perfectly clear. First, unlike many of my creationist colleagues, I do not have a problem with the philosophical underpinnings of the hypothesis of evolution. Indeed, as Dr. Hunter points out in his book, Darwin's God, evolution can, in some ways, elevate one's idea of God, because it takes Him out of the "dirty" day-to-day affairs of nature. In essence, a God who "set everything up" so that humans would be the inevitable result of natural processes working on their own is not only an incredibly powerful God, but He is also a God who is not "sullied" by nature's "unsavory details."
Second, I don't think that the inevitable consequences of the hypothesis of evolution are necessarily evil. As I mentioned in my review of Ben Stein's documentary Expelled, while Hitler and others used evolution as a justification for all sorts of nastiness, evolution did not cause the nastiness. Evil people caused the nastiness, with evolution just being a handy prop to carry along the way. In addition, without Darwin, young-earth creationists couldn't have a rational view of science, since young-earth creationists require microevolution to produce the diversity of life that we see today from the created kinds that were preserved on Noah's Ark. Thus, not only is evolution not evil, one facet of it allows me to have a Biblical worldview.
Having made those two points, however, I think it is certainly possible for individuals to take evolution to ridiculous extremes, and that is what Peter Singer has done. In his textbook, he frequently uses the phrase "nonhuman animals."1 What is the source of this phrase? It comes from the hypothesis of evolution. According to that hypothesis, humans are just another type of animal. Sure, we have many evolutionary novelties compared to the other animals, but fundamentally, we are animals and nothing more.
It is important for Singer to use this phrase a lot in his book, because he wants you to think of people as no more special than any animal on the planet. That way, he can define the word "person" in reference to cognitive abilities rather than in reference to species. After that, he can say things like this:
Hence we should reject the doctrine that places the lives of members of our species above the lives of members of other species. Some members of other species are persons: some members of our own species are not. No objective assessment can support the view that it is always worse to kill members of our own species who are not persons than members of other species who are.2 (emphasis mine)
Note what he is saying here. Not only do some animals qualify as "persons," but more importantly, some humans do not qualify as persons. What kinds of humans don't qualify as persons? Singer is happy to tell you:
There are many beings who are sentient and capable of experiencing pleasure and pain, but are not rational and self-conscious and so not persons. I shall refer to these beings as conscious being. [sic] Many non-human animals almost certainly fall into this category; so must newborn infants and some intellectually disabled humans.3 (emphasis mine)
So Dr. Singer is saying that newborn infants aren't persons, and neither are some intellectually disabled humans!
Now remember, this guy is a professor of ethics at a major university, and he is saying that babies and some of the mentally-challenged are not people! Surely he doesn't meant that, does he? Well, here's what he says:
So it seems that killing, say, a chimpanzee is worse than the killing of a human being who, because of a congenital intellectual disability, is not and can never be a person.4
Now unlike many of my creationist colleagues, I am not going to say that this kind of nonsense is the natural consequence of evolutionary thinking. Instead, I will make the obvious point that this kind of nonsense is the result of not thinking much at all.
There are clear differences between people and any of the animals on earth, and that objectively tells us that there is something special about human beings. Whether we attribute this specialness to the Image of the Creator or a lucky coincidence of mutations acted on by natural selection, anyone with the ability to observe understands that humans are fundamentally different from all animals, including the apes.
Robert M. Seyfarth, for example, is a professor of psychology at the University of Pennsylvania, and Dorothy L. Cheney is a professor of biology at the same institution. They have studied monkeys extensively, and they know there is a big difference between monkeys and people. In a research paper, they indicate that monkey do have a social sense of themselves, but they say:
This sense of "social self" in monkeys, however, is markedly different from self-awareness in humans…Although monkeys' knowledge of social relationships may exceed that of many other social mammals, they apparently achieve such knowledge without reflecting actively upon their behavior, examining their own knowledge, or conceiving of themselves as social agents. They place themselves within a social network without being aware of doing so.5
Both of these researchers are evolutionists, yet they see a big difference between monkeys and people. Of course they do, because they have studied monkeys extensively. People who watch monkeys at a zoo can immediately tell that there is a big difference between monkeys and people. Clearly, then, someone who studies them in depth should come to the same conclusion, whether or not that person is an evolutionist.
Indeed, in a more candid moment, Seyfarth said:
They're not furry little humans. They're just monkeys.6
That's an obvious statement that is independent of your worldview. It is simply an easy-to-observe fact.
I don't know if Dr. Singer has simply not spent much time at the zoo, or if his powers of observation are just stupendously poor. However, I can say this: While the hypothesis of evolution can be used to support his nonsense, it takes more than evolution to reach Dr. Singer's conclusions. It takes an amazing ability to ignore the obvious.
REFERENCES
1. Peter Singer, Practical Ethics, Cambridge University Press, 2nd Edition, 1993, see for example, pp. 56, 57, 110, 117, etc. (Sometimes Dr. Singer hyphenates the word so it is "non-human;" sometimes he does not. I am not sure if there is an arcane grammatical reason for this, but it is a bit distracting.)
Return to Text
2. Ibid, p. 117
Return to Text
3. Ibid, pp. 101
Return to Text
4. Ibid, pp. 117-118
Return to Text
5. Robert M. Seyfarth and Dorothy L. Cheney, "Social Awareness in Monkeys," American Zoologist 40:902-909, 2000
Return to Text
6. Richard Conniff, Swimming with Piranhas at Feeding Time: My Life Doing Dumb Stuff with Animals, WW Norton, 2009, p. 136
Return to Text