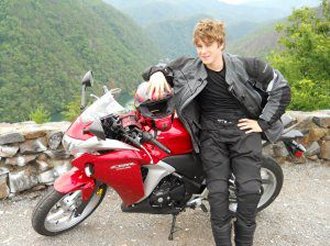 Tragedy. There's just no other word for it. My nephew, who was only 18 years old, died in an automobile accident. He and some friends were on their way to a fish camp to celebrate the end of school. They weren't drinking. They weren't doing drugs. The driver probably was speeding. They hit a rut in the road, and the truck they were in flipped over…into a swamp. Thankfully, there were people close by who were able to get the teens out safely…except for my nephew. He drowned before he could be rescued. His life ended after a mere 18 years.
Not too long ago, my aunt died. Her death was not a tragedy. She lived a full, happy life. She married, had a wonderful son, and truly enjoyed her life to the fullest. She had a strong faith, and she positively impacted a lot of other people. It was hard to say goodbye to her, and I miss her a lot, especially when I am playing cards at her favorite hangout, the American Legion Post in Lapel. But death is a part of life, and you expect it for people who are getting on in years.
Nathan was not getting on in years. He was in the prime of his life. He was taken from this earth before he could get married, have children, or even start a career. His parents will never know the joy of experiencing his college graduation, his wedding day, or the birth of his children. There will forever be a hole in their hearts, because a huge part of their lives was taken from them far, far, far too soon. Parents should never have to bury their children. It just isn't right.
So what are Christians to do when faced with such a tragedy? Are they supposed to wonder why God took Nathan so young? Are they supposed to come up with some reason for why this had to happen? Are they supposed to make sense of it all? I don't think so.
Senseless things happen every day, and there is nothing that can be done about them. I honestly don't think this was "supposed" to happen. It was an accident, and it happened simply because we live in a fallen world, and in such a world, tragic accidents happen from time to time. So what are Christians to do when such tragedies intrude on their lives? I think I know the answer. My sister-in-law, Nathan's mother, showed it to me.
From the time I heard of my nephew's death, I was amazed at my sister-in-law's reaction. She was sad, there's no question about that. She was hurting. She grieved. But she was a paragon of strength. When I spoke at the memorial service, I called her a Steel Magnolia, because that's exactly what she was. How could she be so strong? She kept saying one thing time and time again: "This is only temporary. We will see Nathan again. He's waiting for us…waiting for us with Jesus." These words might sound "trite" or "simple" to some, but they are, in fact, incredibly profound.
When my little girl (who is now 33) was a teen, she went on a trip to London. It was her first really long trip away from us, and it seemed like she was going so very far away. I missed her every day, but I let her go because I knew it would be good for her, and, most importantly, I knew I would see her again. Her trip was just a temporary parting, and it honestly did sadden me, but I let her go, because I knew that we would be reunited again.
My sister-in-law can let her son go, because she knows that she will be reunited with him. Even though this is a tragedy, it is one that produces only temporary sadness. It will seem like a long, long time to her (and me and the rest of the family), but it will not be forever. We will be parted from our dear Nathan for longer than we want to be parted from him, but we will see him again. That's the Christian view of such a tragedy. In light of eternity, this pain is hardly a blip. It seems like a lot of pain now, and despite the fact that it will last a lifetime, when we reach the other side, we will understand just how temporary it all was.
The other thing to note is that while this is a senseless tragedy, some good has come of it. Because of the memorial service, I learned about a side of my nephew that I never knew. As his friends shared their memories of him, I learned how selfless he was. He went out of his way to make life better for others. For example, one lovely young lady shared that she had to take a ceramics class for her art credit. She hated it, because all the other students in the class were mean to her. She told this to Nathan, and he simply told her not to worry, that she would be fine. The next day, she came to class and saw Nathan there. He already had his art credit, but he signed up for the class anyway, just to make it easier for his friend. As friend after friend shared, it was clear that this kind of selfless behavior was typical of Nathan.
Not long after the funeral, my little girl posted this on her Facebook account:
In this time it's hard to find blessings. But I have found them. And trust me when I say that I wanted to sit in a corner sulking and saying 'it's not fair'. And trust me, it's not fair. It's not. But I found something that I have been looking for for a long time.
In the course of this tragedy, then, my little girl found something that she had been looking for for a long time. Does that justify the tragedy? Of course not. Do I think that Nathan died so my little girl could be happier? Of course not. At the same time, however, I had to wonder: If Nathan had known that my little girl was looking for something that was important to her, and if he had known that he would need to die in order for her to find it, would he have willingly died so that she could?
After hearing his friends share at his memorial service, I think the answer would have to be, "Yes…that's just the kind of guy Nathan was."