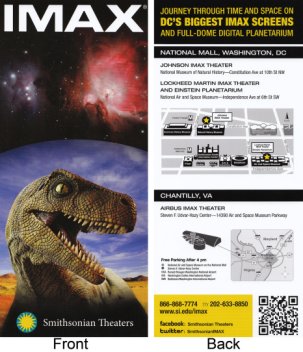 As I have been surfing the blogosphere over the past few days, I have seen three stories that relate to atheists being upset. I'll start with the first one, which is both ironic and hilarious at the same time. It seems that the Smithsonian Institute has produced a flyer (shown on the left) promoting its IMAX theater. To entice the reader, there is a prominent picture of a dinosaur on the front cover. I am sure the marketing department chose the picture because it is so realistic. Here's the problem for the Smithsonian: the picture is of a model from the Creation Museum, which promotes young-earth creationism! I find this particularly funny, since the Smithsonian has attacked the museum on its blogs.
For example, Sarah Zielinski wrote a post discussing how a group of creationist students from Liberty University visits the Smithsonian's National Museum of Natural History every year. She then mentions the "other side," where a secular group of students from Indiana University visited the Creation Museum. She posts a video that the students made, and not surprisingly, rather than trying to address the evidence set forth in the museum, the students simply try to mock it. After the visit, the students stop at a restaurant about 10 miles away, and one of them says:
If there is a nexus of all the misinformation and propaganda against science and progressive education it is about 10 miles…education in general…it's about 10 miles down the road.
Well, when the Smithsonian's marketing department wanted to depict a dinosaur, it chose one from this nexus of misinformation. Not surprisingly, this hasn't gone over well with some in the atheist community. For example, "The Friendly Atheist" mentions the founder of the museum, Ken Ham, saying:
*Sigh*

You win this round, Ham…

Smithsonian people, I know it's just a picture of a random dinosaur and you would never endorse Creationism garbage, but you're getting the image from people who wrongly believe dinosaurs lived with people.
To me, it's not surprising that the Smithsonian unwittingly used a picture from the Creation Museum. While there are things in the Creation Museum with which I strongly disagree, overall, I found it to be significantly more scientifically accurate than most museums, including the Smithsonian's National Museum of Natural History. Thus, it's not surprising to me that they found one of the Creation Museum's dinosaur models to be an accurate depiction of a dinosaur.
The second story is about the Giant's Causeway, a natural formation of basalt columns that is the result of a volcanic eruption. Here is a picture of it: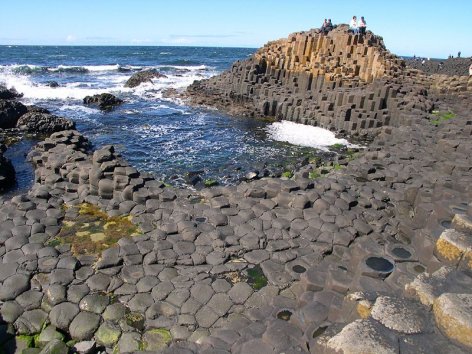 Obviously, the pattern of the columns is intriguing, so the formation gets a lot of attention. Old-earth scientists have their explanation for how and when it formed, while young-earth creationists have their explanation. In other words, the formation of the Giant's causeway is controversial among scientists. The story centers around the fact that the UK's National Trust decided to mention this controversy in its new visitor exhibition. According to the story, it doesn't give the young-earth creationist view. It simply mentions the fact that some people disagree with the old-earth explanation.
Well…that doesn't sit well with the archbishops of evolution. Both Dr. PZ Myers and Dr. Jerry Coyne went apoplectic, bashing the National Trust for daring to inform the public that there is a controversy. This, of course, is simply a reflection of the weakness of their position. They get angry whenever someone even mentions that there are those who disagree with them. After all, mentioning the controversy might cause people to look at the alternative position, and the archbishops of evolution can't allow that kind of open-mindedness! It threatens their dogma.
Of course, you can't discuss upset atheists without bringing up Dr. Richard Dawkins. He has been in a tiff with Dr. Edward O. Wilson, a scientist of superior credentials who has actually done a lot of good research that has aided science in its understanding of the natural world. Why the tiff? Because Dr. Wilson disagrees with him. While Dawkins is convinced that the only possible way natural selection can work is on individual genes, Wilson is convinced there is more to what natural selection can do. He thinks that natural selection can also work on groups of organisms.
Well, Dr. Dawkins is quite upset that anyone would dare to criticize his hypothesis-stated-as-fact. As a result, he wrote a blistering critique of Wilson's latest book. If you slog through the article, you will find that Dawkins actually tries to claim that Wilson doesn't understand evolution! Saying that Wilson doesn't understand evolution is much like saying a JPL engineer doesn't understand propulsion. Wilson knows evolution better than most scientists, including Dr. Richard Dawkins. The problem is that Dawkins can't effectively argue for his positions, so instead, he simply has to say that anyone who disagree with him doesn't understand evolution. That goes for creationists, intelligent design advocates, and even other evolutionists who don't meet his standard of orthodoxy.
Oh..Dawkins does one more thing. Not only does he wrongfully insult someone who is probably one the top ten evolutionary scientists of our time, he then goes on to claim that he is right because there are a lot of scientists who agree with him:
I would not venture such strong criticism of a great scientist were I not in good company. The Wilson thesis is based on a 2010 paper that he published jointly with two mathematicians, Martin Nowak and Corina Tarnita. When this paper appeared in Nature it provoked very strong criticism from more than 140 evolutionary biologists…
Wilson's reply to this statement clearly shows who is the better scientist:
"In any case," Wilson writes, "making such lists is futile. If science depended on rhetoric and polls, we would still be burning objects with phlogiston [a mythical fire-like element] and navigating with geocentric maps."
While I obviously disagree with Dr. Wilson on most of his interpretations of the data, I can wholeheartedly agree with that statement. Science isn't about majority vote. It is about the data. As more scientists realize this, evolution will go the way of phlogiston and geocentric maps.