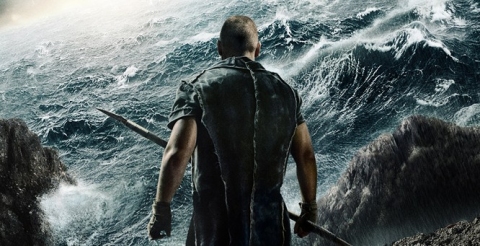 It was particularly awful. Honestly, the only reason I sat through the entire movie was that I kept thinking it had to get better. It didn't. Now please understand that I am not talking about how wildly the movie differs from the Biblical account. Hollywood has a reputation for taking a great moment in history and destroying many of the facts related to it. Consider, for example, The Ten Commandments, which was shown on the silver screen in 1956. There were all sorts of things in that movie (Moses as a war hero, the Nefretiri love story, Moses being arrested and exiled, etc., etc.) which had no basis in the Biblical account. There were also all sorts of things in the Biblical account that were left out of the movie (six of the plagues, manna, the celebration of Pharaoh's death, etc., etc.)
Despite the unBiblical nature of The Ten Commandments, however, it is an amazing movie. All of the leads, especially Charlton Heston, give great performances, and the dialogue is mostly believable and very meaningful. Watching the movie is, quite simply, a great experience. It can also be a great critical thinking exercise. I suggest that you watch the movie and then re-read the Biblical account. Try to write down the major differences between the two and think about why a filmmaker would want to introduce such differences. Is each difference a result of a philosophical agenda, a desire to make the story more enjoyable, problems with illustrating the details well, or some other issue?
With that in mind, despite the fact that I had read about all the inaccuracies in the movie Noah, I still wanted to see it. Like The Ten Commandments, I expected things that were in the the Bible to be left out and things that weren't in the Bible to be put in. However, I also expected it to be an enjoyable movie. As a friend of mine who is a pastor wrote:
When I go see a movie "based on a Biblical story" and made in Hollywood…I don't EXPECT it to be accurate…however, with a budget and cast as this one had…I DID expect it to be good…it wasn't.
——- Spoilers Below ———
What made it so bad? Where do I begin? The story starts out so outlandishly you think you are watching a movie based on a comic book. Supposedly, Cain and his descendants quickly learned to mine an ore called "zohar." It has all sorts of magical properties, such as being able to make light, being a power source for weapons, and being an important ingredient in an early pregnancy test. Cain and his descendants start spreading out across the world, mining the zohar and raping the land. This is why God wants to bring destruction to man – he is pillaging the earth.
How did people learn to mine this zohar in the first place? Well, there were angels that really wanted to help them, so they left heaven and went to earth. For the sin of leaving heaven and helping mankind, God punishes the angels by transforming them into rock giants called "the Watchers." They taught people about how to use the earth, and that led to most people misusing the earth.
As if the cartoonish nature of the movie's beginning wasn't enough, the characters are given comic-strip personalities. The "king" of the descendants of Cain, Tubal-Cain, is purely evil. He spouts lines you would think came out of the mouth of Cobra Commander from the Saturday-morning cartoon "G.I. Joe," and he eats live animals. There is actually a scene where he bites off the head of a live lizard and eats it. Really? Of course, the descendants of Seth (including Noah and his family) are just as cartoonish. They live off the land, never taking more than they need, and they are strict vegetarians.
When Noah is forced to watch the pure wickedness of those who follow Tubal-Cain, he decides there is no hope for man at all. He concludes that the Creator wants to kill off man completely, leaving only the truly innocent – the animals – to enjoy earth. At that point, he instantly switches from being a man who is unwilling to eat animals to a man who wants to kill his son's daughters when they are born. He goes from a man who is willing to do anything for his family to a man who is willing to alienate every member of that family to "protect the earth" from the evils of mankind.
This unbelievable transformation is further made absurd by an over-the-top scene between Noah and his wife. She is desperately trying to stop him from carrying out his plan to kill his granddaughters, so she attempts to make an impassioned speech about how no one (including her) will ever forgive him if he does what he intends to do. The scene could be incredibly powerful, but it turns into a shouting tear-fest that Noah watches impassively. At no time during that scene did I ever sense real feelings from either actor. It was as if the writers just wanted buckets of tears instead of real words spoken by real people.
And, of course, the whole idea that the family just had to watch helplessly as Noah tries to kill babies is absurd. Noah's family could have easily stopped him. To be fair, the movie tries to have Shem be heroic and defend his children, but in an absurd way. He leaves them to go fight Noah. Of course, his fighting is inept, and he gets knocked out after a couple of wild swings of his harpoon. What would real people have done in that situation? They would have stayed with the babies and waited for Noah, forcing him to kill all of them in order to get to the babies. Of course, the characters in the movie didn't do that, because they aren't portrayed as real people.
But Noah didn't end up killing his granddaughters. Why? Because in another completely unbelievable scene, Noah's wife is unwilling to try to stop him, so he easily finds his son's wife with her two babies, both of which are crying. She convinces him to let her quiet the babies before he kills them, and of course, the madman agrees. She sings them a song that Noah tried to sing to her when she was young (and yes, he sings just as badly as he did in Les Miserables). Once they are quiet, Noah tells her she doesn't have to see this, but she insists on watching as he kills them. That moment once again completely turns Noah around, transforming him from a baby-killer into a baby-lover.
Now…despite the fact that Noah was a thoroughly awful movie, there were two good scenes, both of which are carried by Emma Watson. In an early scene, her character tries to convince Noah to find another wife for Shem, because at that point in the movie she is barren. She wants Shem to have children and thinks she can't give them to him. Noah tells her that she is a precious gift to the family, and it is a very touching moment. Later on, Noah's grandfather (Methuselah) uses magic to make her able to have children, and she ends up having the daughters that Noah tries to kill.
Late in the movie, there is another scene between Noah and Emma Watson's character, where she tries to convince Noah that he is not the failure he thinks he is. Once again, it is touching, and it almost makes Noah look like a real person, if only for a moment.
So…would I recommend that you see this movie? No, but not because it's unBiblical. Seeing an unBiblical movie can be a great exercise in theology, if it forces you to read the Biblical account closely and compare the two in a serious manner. I wouldn't recommend it because it is simply an awful movie. If you want to watch a good unBiblical movie, get The Ten Commandments.