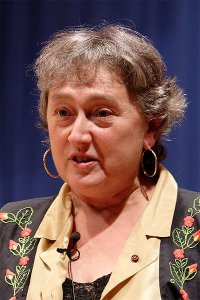 Dr. Lynn Margulis is a very interesting person. When she was a young scientist, she wrote a paper entitled "On the origin of mitosing cells." It was rejected by several scientific journals, but it was eventually published in the Journal of Theoretical Biology more than 40 years ago. In that paper, she proposed an endosymbiotic theory for the origin of eukaryotic cells.1 If you don't recognize that term, there are two basic kinds of cells in creation: prokaryotic and eukaryotic. Just as the human body has distinct, smaller organs that each perform specific functions, eukaryotic cells have distinct, smaller organelles that each perform specific functions. Prokaryotic cells are smaller than eukaryotic cells and do not have distinct organelles. While humans, animals, plants, and many microscopic organisms are made of eukaryotic cells, bacteria are made of a single prokaryotic cell.
In her paper, which is now considered a landmark publication, she put forth the idea that the organelles in eukaryotic cells formed because one prokaryotic cell engulfed another, and they both somehow survived to work together. The engulfed cell became the organelle, while the cell that did the engulfing became the first rudimentary eukaryotic cell. While this idea did not originate with Dr. Margulis, her landmark paper was the first to provide biochemical data that supported the view. As a result, she has gotten the lion's share of the credit for the endosymbiotic theory of the origin of eukaryotic cells.
Now there are serious problems with her theory. For example, she makes much of the fact that mitochondria (eukaryotic organelles that power the cell) are similar to bacteria. As a result, it should make sense that mitochondria were actual bacteria at one time. However, the similarities are rather trivial. There are significant structural and biochemical differences between the two, which makes the idea that mitochondria came from bacteria quite untenable. Nevertheless, endosymbiotic theory is currently the consensus view among evolutionists for how eukaryotic cells arose. Thus, it is not surprising that Dr. Margulis was elected to the National Academy of Sciences in 1983.
While the problems associated with endosymbiotic theory are interesting, what really fascinates me is how two well-known evolutionists have reacted to her recent interview, published in Discover Magazine.
In the interview2, she said some very honest things about the evolutionary hypothesis. For example, she said:
I was taught over and over again that the accumulation of random mutations led to evolutionary change-led to new species. I believed it until I looked for evidence.
She also said that there is no fossil evidence for the gradual change you would expect from the idea that mutation-induced changes preserved by natural selection have led to what we see in nature today. At one point, the interviewer indicates that what she says sounds a lot like what Dr. Michael Behe says, and she answers with:
The critics, including the creationist critics, are right about their criticism. It's just that they've got nothing to offer by intelligent design or "God did it." They have no alternatives that are scientific.
So Dr. Margulis is definitely not a fan of Intelligent Design or creationism. Indeed, according to the interview, she actually debated Dr. Behe in the past. She doesn't support intelligent design or creationism because she has her own hypothesis of evolution that is based (not surprisingly) on symbiosis. However, she is at least honest about the fact that the current evolutionary hypothesis is simply not supported by the data.
How have her evolutionist colleagues received her honesty? Not very well. For example, Dr. Jerry Coyne wrote:
Well, at least she's not crazy enough to accept god as a scientific explanation. But she is crazy enough to proffer her "alternative" theory, which of course is symbiosis.
So according to Dr. Coyne, the scientist who is responsible for making endosymbotic theory the standard view in evolution is crazy! Of course, calling her names isn't good enough for Dr. Coyne. He has to go further:
When discussing evolutionary biology, then, Margulis is dogmatic, willfully ignorant, and intellectually dishonest. She does deserve plaudits for not only her early work on symbiosis, but for having the tenacity to push for her ideas in the face of considerable opposition. But that tenacity is being misapplied here. She's simply wrong—and wrong in the worst way a scientist can be wrong: ignoring all the data that go against her theories. But what do you expect of someone who answers the interviewer's last question like this?:

Dick Teresi (the inteviewer): Do you ever get tired of being called controversial?

Margulis: I don't consider my ideas controversial. I consider them right.

She's almost religious in her fanaticism.
Now, of course, Dr. Coyne thinks his views are right as well, but he would be horrified at the characterization that he is religious in his fanaticism.
Of course, my favorite atheist (P.Z. Myers) had to pile on as well. In a short blog post entitled, "Speaking of crackpots…," he says
Here's another one: Lynn Margulis. HIV denial, weird ideas about spirochaetes making sperm tails, dismissing the whole field of population genetics, failing to understand evolution in general…it's embarrassingly bad. Dr Margulis had a weird idea once about endosymbiosis, and she was right — and now she's always off gallivanting towards the latest, weirdest, most untenable idea she can find. It's such a waste.

I think someone should arrange a conversation between Margulis and Wickramasinghe. Their egos will either synergize and produce a spectacular explosion of time-cube level kookiness, or they'll mutually annihilate each other. It's a risk I'm willing to take, for the lulz.
It's sad that people who call themselves scientists are so unwilling to engage in critical thinking that they need to insult people who are simply trying to be honest about the data. There are a lot of things that I disagree with when it comes to Dr. Margulis's views, but I admire her for speaking honestly about how she sees the data.
Scientists like her are the ones who will improve scientific knowledge, because they honestly look at the data and discard ideas that don't work. In addition, they seek out new ideas. Their new ideas might not work, either, but trying out new ideas is better than clinging to old ideas that don't square with the data. Scientists who are so closed-minded that they choose to attack her rather than honestly investigate what she has to say are holding back the progress of science.
Let's hope that in the long run, scientists like Dr. Margulis prevail.
REFERENCES
1. Lynn Sagan, "On the origin of mitosing cells," Journal of Theoretical Biology 14:255-274, 1967.
Return to Text
2. Dick Teresi, "The Discover Interview: Lynn Margulis," Discover Magazine April 2, 2011, pp. 66-71.
Return to Text