An infrequent but very entertaining commenter on this blog, Black Sheep, asked the following question:
In an effort to drop some pounds, I've started focusing on building muscle (instead of endurance) and therefore lifting weights. I understand the basic principle of why muscles get sore, but for me, and most people I know, 2 days after the work out seems to be FAR more painful than the day after. As with my other question, why is this, and is there anything I can do to prevent it?
I would like to use this blog post to answer her question.
There are three basic reasons why muscles get sore in response to exercise. First, there is a buildup of acid in muscles when they are forced to burn energy very quickly. The muscle soreness you experience during a workout is usually the result of acid buildup, but it quickly goes away as the acids are flushed out of your muscles.
The second reason is a bit more long-term. Your muscles work by contracting. In order for your muscles to contract, calcium must be imported into the muscle cell. When the muscle relaxes, the calcium leaves the cell. So repeatedly contracting and relaxing your muscles (which is what you do when you exercise) causes calcium to continually enter and leave the cell. This produces a swelling in the muscle tissue, and that causes inflammation. In addition, this constant import and export of calcium serves as a trigger for the cell to break down proteins and rebuild them so that they can do more. This ends up building up the muscle, but at the cost of some pain.
Neither of these effects explains what is happening in Black Sheep's case, however. Black Sheep is experiencing Delayed Onset Muscle Soreness (DOMS), and it is the result of a completely different process.
In short, DOMS is caused by small tears in your muscles, which isn't nearly as bad as it sounds. Why do the tears occur? Are you mistreating your muscles? Not really. They are a consequence of eccentric exercise. To understand what that is, you need to know a bit more about how muscles contract.
A muscle cell is filled with protein filaments, the most important being actin and myosin. They are arranged as shown in this illustration: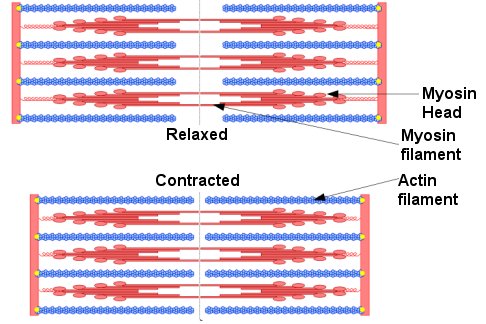 In the top part of the illustration, the muscle is relaxed. In order to contract, the "heads" on the myosin filament grab on to the actin filament and pull so that everything moves to the center. The result is the contracted muscle shown at the bottom of the illustration. This process, of course, takes energy, because the myosin heads have to do the grabbing and the pulling.
So…imagine holding a weight in your hand with your arm fully extended down towards the ground. You now want to flex your elbow so as to lift the weight up. How do you do that? You contract your biceps muscle. The mysoin heads in your biceps muscle cells grab on to the actin and pull. They release, grab on again, and pull. They keep doing that, ratcheting the actins closer and closer to the center, which contracts your biceps. That flexes your elbow, bringing the weight up.
Now you are ready to let your arm fall back to its original position. What do you do? Do you just immediately relax your biceps muscle and let gravity pull the weight down? That would certainly cause your arm to stretch back out, but your arm would flop down incredibly quickly, and that would jar your elbow joint.
To keep that from happening, you relax your biceps, but you do so under tension. Some of the myosin fibers are fully relaxed, but not all of them. Some of them are still gripping the actin and pulling so as to keep your arm from just flopping down. So some of the muscle fibers are lengthening because they are relaxed, but others are still contracting. That's eccentric exercise, and it tears up your muscles, because the muscle fibers are acting against each other rather than working with one another. Weightlifters spend a lot of time in eccentric exercise, because they are lifting and then slowly lowering the weights. Thus, lots of weightlifting tends to produce muscle damage.
Now what does this muscle damage lead to? You guessed it – more muscle. The muscle cells have to get rid of the torn-up muscle parts and replace them. They typically replace them with even more protein fibers, increasing both muscle mass and strength. This kind of protein remodeling takes time, however, which is why the soreness is delayed.
Is there anything you can do to prevent it? Not if you want to gain muscle mass. Tearing down muscles so that they can be rebuilt is part of the process of building muscle mass.