Sabellidites cambriensis is an animal that we know only from the fossil record. It is thought to be a worm-like creature that built its own tube in which to live. Its fossils are found in Ediacaran rock, which is supposed to be on the order of 550 million years old. Evolutionists are interested in studying organisms from this rock, because they are thought to be the oldest multicelled animals. The problem is that there are other fossils of tube-forming animals in the same rock, so it is difficult for evolutionists to tease out the supposed relationships that exist between S. cambriensis and similar animals that are alive today.
In order to better understand S. cambriensis, a group of paleontologists examined several fossils using electron microscopes, X-rays, and spectrometers. Their analysis indicates that the structure and layering of the fossils' tubes are similar to that of an existing group of animals known as beard worms,1 an example of which is shown below: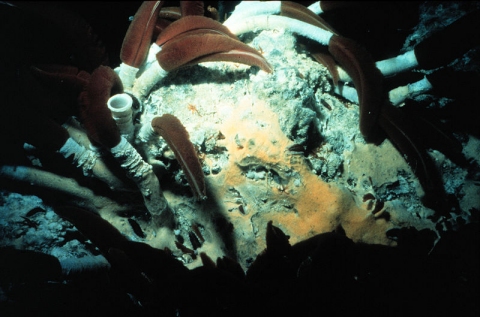 As a result, the authors conclude that the S. cambriensis fossils represent ancient forerunners of the beard worms. This presents a bit of a problem for evolutionists, however. As the authors note, using molecular clock estimates, it was thought that beard worms didn't evolve until about 126 million years ago. Since the fossils the authors studied are supposed to be about 550 million years old, their analysis says that the molecular clock estimate is off by almost a factor of four! However, I personally think these fossils represent an even bigger problem for evolutionists.
Continue reading "New Record Set for Soft Tissue in Fossils"