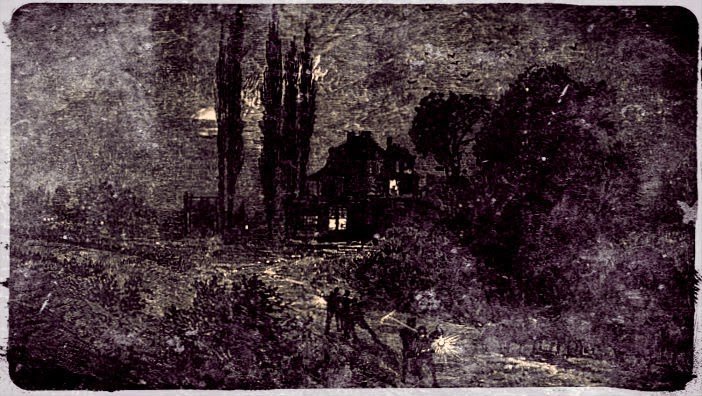 There are many politicians and media figures (as well as a few scientists) who are desperately trying to convince us that global warming (aka "climate change") is a dire problem that requires radical action right now. One of their most effective tools is to discuss a current event as if nothing like it has ever happened before. That way, they can blame it on climate change. This works, in part, because history education is so poor that most people don't know what happened in the past.
Consider, for example, the terrible air quality in the New York City area recently. Vox reported on it with the headline, "Why some of the US has the most polluted air in the world right now." It correctly blames the situation on wildfires in Canada, but then it says:
…this extreme fire event and its long-ranging smoke trail indicate a much larger and concerning trend: wildfires are getting worse, lasting longer, and occurring more frequently, primarily due to climate change.
Of course, none of that statement is even remotely true. According to satellite imagery, here is the area of land burned globally by forest fires each year since 1980: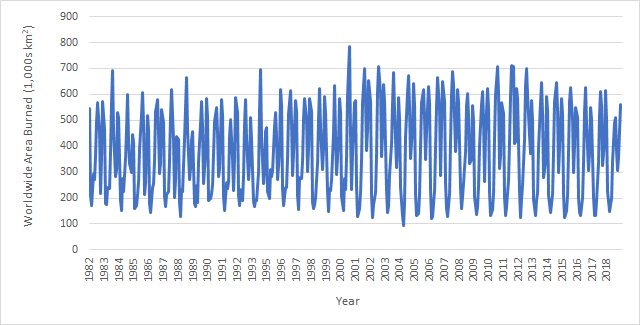 Notice that there is no trend in the data. From a global perspective, wildfires haven't changed in 40 years! This is backed up by the most comprehensive study on global wildfires, which states:
…many consider wildfire as an accelerating problem, with widely held perceptions both in the media and scientific papers of increasing fire occurrence, severity and resulting losses. However, important exceptions aside, the quantitative evidence available does not support these perceived overall trends. Instead, global area burned appears to have overall declined over past decades, and there is increasing evidence that there is less fire in the global landscape today than centuries ago.
But what about the air quality in New York? We've never seen anything like it before in the U.S., right? Wrong! Historically, the worst air quality recorded in the U.S. occurred on May 19, 1780 in the New England area. It's referred to as New England's Dark Day because the sky was so filled with smoke and fog that candles were required starting at about noon. What was the cause? It is impossible to know for sure, but the major contributor seems to be forest fires in the Algonquin Highlands of Ontario, Canada. As discussed in the link above, studies of tree rings in that area (as well as historical records) confirm that a major wildfire occurred there that year.
So while these things don't happen often, they have happened in the past. Indeed, while one of these new fires might break it, the current record for the single worst forest fire in North America was the Chinchaga fire of 1950. In addition, the available data say that such events aren't increasing in frequency or severity. Unfortunately, history and science education is incredibly poor these days, so most people just don't know that. As a result, ignorant (or malicious) politicians and journalists (as well as some scientists) can prey on that lack of knowledge.