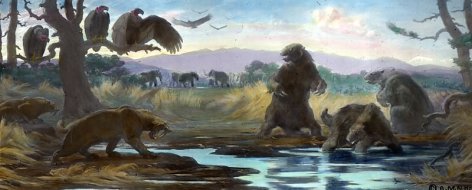 Paleontologists have long recognized that the fossil record produces a serious problem for the hypothesis of evolution. Almost thirty years ago, Dr. David Wake and his colleagues stated:1
With natural selection operating in a changing environment as an agent of adaptation, we expect to see changes at the organismal, ultimately physiological and morphological, level. How, though, can we explain the paradoxical situation in which environments change, even dramatically, but organisms do not?
In other words, evolution predicts that in a changing environment, organisms should change in order to adapt. However, when we look at the fossil record, we don't see such change. Instead, while it is thought that earth's climate changed dramatically in many different ways throughout the fossil record, the fossils themselves show that the organisms living on earth didn't change much at all. This has been called the "paradox of stasis," and while several attempts have been made to resolve the problem2, none of them have been found to be satisfactory.3
In an attempt to understand the paradox of stasis better, Dr. Donald Prothero undertook a series of amazingly detailed studies. With the help of a small army of students, Prothero studied the fossils of all the common birds and mammals that have been preserved in the La Brea tar pits of Los Angeles, California. According to the standard geological view, these tar pits preserved species that lived in the area over a period of time when the region experienced wild climate change. It is thought that 35,000 years ago, the Los Angeles, California area had a very similar climate to what it has today. During the height of the last ice age (20,000 years ago), however, it was significantly colder and significantly wetter. As the ice age waned, the climate returned to what it was 35,000 years ago.
From an evolutionary point of view, one would expect that over the course of this dramatic change in climate, the birds and mammals living in the area would have experienced some amount of evolutionary change in order to adapt to their surroundings. However, that's not what this series of studies found.
Here is what Dr. Prothero and his colleagues say about their results:4
Thus, the data show that birds and mammals at Rancho La Brea show complete stasis and were unresponsive to the major climate change that occurred at 20 ka, consistent with other studies of Pleistocene animals and plants.
In the end, then, the paradox of stasis is real. I seriously doubt that Prothero expected to find otherwise, but I think the value of this series of studies is found in its detail. The fossil analysis was so exacting that even small evolutionary changes would have been seen in the data. There were some small changes found, but none of them exhibited any kind of pattern related to the supposed climate change that had taken place. Instead, the small changes that were seen appeared to be random.
What do the authors conclude? Here is what they write at the end of their paper:
Such stasis, along with the examples documented from nearly all other Pleistocene mammals and birds, argues that organisms are not as responsive to environmental change as classical neo-Darwinian theory predicts.
So how can the paradox of stasis be resolved? Here is what Dr. Prothero recently wrote:
No matter how many presentations I give where I show these data, no one (including myself) has a good explanation yet for such widespread stasis despite the obvious selective pressures of changing climate. Rather than answers, we have more questions — and that's a good thing! Science advances when we discover what we don't know, or we discover that simple answers we'd been following for years no longer work.
I strongly agree that science advances when we discover that the simple answers we'd been following for years no longer work. Many scientists have already seen that the "simple answer" of evolution doesn't work. Science will advance as more scientists come to the same conclusion, and a more reasonable explanation for origins is adopted.
REFERENCES
1. Wake, David B.; Roth, G.; and Wake, M. H., "On the problem of stasis in organismal evolution," Journal of Theoretical Biology 101(2):212, 1983.
Return to Text
2. See, for example: Suzanne Estes and Stevan J. Arnold, "Resolving the Paradox of Stasis: Models with Stabilizing Selection Explain Evolutionary Divergence on All Timescales," The American Naturalist 169(2):227-244, 2007.
Return to Text
3. See, for example, a rebuttal to #2: Kaplan, Jonathan, "The Paradox of Stasis and the Nature of Explanations in Evolutionary Biology," Philosophy of Science Assoc. 21st Biennial Mtg (Pittsburgh, PA), Contributed Papers, Item 4286, 2008.
Return to Text
4. Donald R. Prothero, et. al., "Size and shape stasis in late Pleistocene mammals and birds from Rancho La Brea during the Last Glacial–Interglacial cycle," Quaternary Science Reviews, 56(21):1-10, 2012.
Return to Text