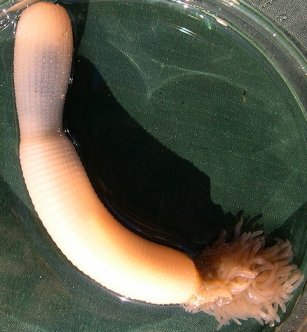 Look at the unassuming worm pictured on the left. It is commonly called a cactus worm, but this particular species is known as Priapulus caudatus. According to evolutionists, cactus worms have been around for at least 500 million years.1, but they just recently falsified yet another prediction made by the hypothesis of evolution. To understand the prediction and why it has failed, you need to learn some background information.
There are many different ways scientists classify animals, but one of the broader ways it is done is by symmetry. Most of the animals with which you are familiar are bilaterally symmetric. This means their bodies can be split into a left half and a right half, and those two halves are roughly mirror images of each other. Cats, dogs, and horses are all bilaterally symmetric, as they all have distinct right and left sides that roughly mirror each other. In addition, cactus worms are bilaterally symmetric. Since there are a lot of animals that have this kind of symmetry, scientists have to find characteristics among the bilaterally symmetric animals that will further classify them.
Well, there are two different ways that bilaterally symmetric animals develop their digestive tract. In all these animals, a puckered indentation forms in the embryo. This indentation, called the blastopore, forms the beginning of a tube that will eventually develop into the digestive tract. However, in some bilaterally symmetric animals, that blastopore ends up becoming the mouth, while in other bilaterally symmetric animals, the blastopore ends up becoming the anus. In other words, some animals start their digestive system with their mouth, while others start their digestive system with their anus. The "mouth first" animals are called protostomes, which is a combination of the Greek word "protos" (which means first) and "stoma" (which means mouth). The "anus first" animals are called deuterostomes, which means "mouth second," since the Greek word "deuteros" means "second."
So when a biologist looks at an animal that is bilaterally symmetric, one of the first questions that comes to mind is, "How does the digestive tract develop?" That tells the biologist whether the animal is a protostome or a deuterostome. Well, it turns out that studying the embryonic development of animals is rather time-consuming, so scientists often use other characteristics to infer the group to which an animal belongs. With all that under your belt, you are now ready to learn about the falsified evolutionary prediction.
No one had bothered to study the embryonic development of a cactus worm in a detailed enough fashion to determine how its digestive tract forms. Nevertheless, cactus worms have been classified as protostomes for a long, long time. Why? Because they share major genetic and anatomical features with other known protostomes. In addition, they do not share nearly as many characteristics with the deuterostomes. For example, a study that analyzed the mitochondrial DNA of cactus worms as well as 42 genes from their nuclear DNA confidently stated that cactus worms are actually "slowly evolving ecdysozoans."2 Why is that important? Because ecdysozoans are protostomes. From an evolutionary point of view, then, it is obvious that cactus worms are protostomes.
After all, cactus worms are so genetically and anatomically similar to protostomes and so different from deuterostomes that they must be very closely related to the protostomes. Since they are very closely related, they must share all sorts of similarities, including the way their digestive tracts develop. From an evolutionary point of view, then, there is just no need to study their actual embryonic development, right? Wrong!
José M. Martín-Durán and colleagues actually watched the embryonic development of a particular species of cactus worm, Priapulus caudatus. They found that in fact, the anus forms first, not the mouth. Thus, while cactus worms have been classified as protostomes for quite some time based on evolutionary reasoning, the fact is that the one species whose embryonic development has actually been studied is a deuterostome. The title of the paper says it all: Deuterostomic Development in the Protostome Priapulus caudatus.3
So while evolutionary reasoning confidently predicted that cactus worms are protostomes, the actual data indicate the exact opposite. The more we study nature, the weaker the evolutionary hypothesis becomes.
REFERENCES
1. Dong X, Donoghue PCJ, Cheng H, and Liu J, "Fossil embryos from the Middle and Late Cambrian period of Hunan, south China," Nature 427:237-240, 2004.
Return to Text
2. Webster BL, Copley RR, Jenner RA, Mackenzie-Dodds JA, Bourlat SJ, Rota-Stabelli O, Littlewood DT, and Telford MJ, "Mitogenomics and phylogenomics reveal priapulid worms as extant models of the ancestral Ecdysozoan," Evolution & Development 8(6):502-10, 2006.
Return to Text
3. José M. Martín-Durán, Ralf Janssen, Sofia Wennberg, Graham E. Budd, and Andreas Hejnolsend, "Deuterostomic Development in the Protostome Priapulus caudatus," Current Biology doi:10.1016/j.cub.2012.09.037, 2012.
Return to Text