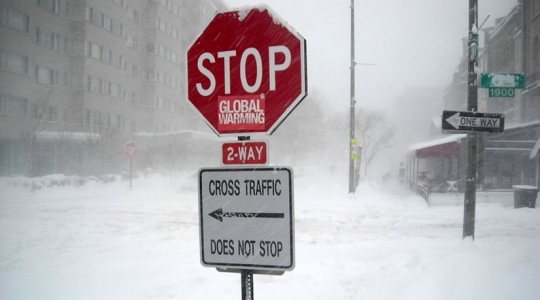 You've heard it a lot lately. 97% of climate scientists believe that climate change (aka global warming) is happening, and human activity is mostly to blame. It doesn't matter that this figure comes from a terribly flawed study. It's a great soundbite, so it is used a lot. Consider, for example, the president of the Sierra Club, which calls itself "the nation's largest and most influential grassroots environmental organization." In a recent testimony, he didn't even know about the dramatic disagreement between the satellite temperature record and the global climate models that have been used to support global warming hysteria. Instead, he simply kept repeating the claim that 97% of scientists believe that global warming is mostly caused by human activity.
Now, of course, anyone who has been reading this blog for a while knows that the opinion of a group of people (even a large majority of scientists) means very little to me. If I am going to believe in something, I want the objective data to support what I believe. Opinions are not objective data, so I try to look at the evidence and think for myself. Unfortunately, there are a lot of people who don't want to think for themselves. Like the president of the Sierra Club, they simply believe whatever the majority of scientists say. Well, a recent survey of the American Meteorological Society might be of interest to such people.
The American Meteorological Society describes itself in this way:
Founded in 1919, the American Meteorological Society (AMS) is the nation's premier scientific and professional organization promoting and disseminating information about the atmospheric, oceanic, hydrologic sciences.
They surveyed their membership about climate change, and 4,092 of the members responded. This represents a 53.5% response rate. Not surprisingly, there was no 97% consensus to be found among the respondents.
The only number that came close was the answer to the question, "Regardless of the cause, do you think climate change is happening?" 96% of the respondents said yes, while 1% said no, and 3% said they didn't know. Of course, since that question included the possibility that climate change is completely due to natural processes, this result tells us very little.
When asked what is actually causing climate change, there were a wide variety of ideas: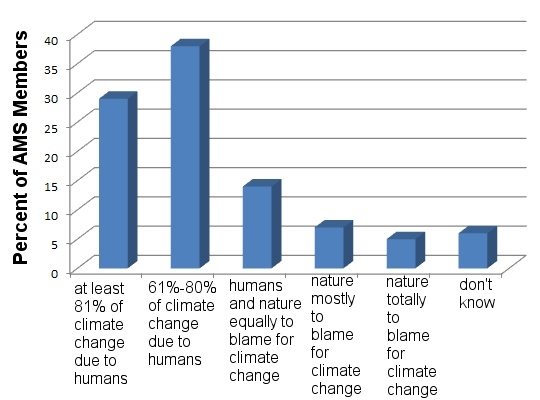 In the end, 67% of the membership believes that climate change is caused more by human activity than by natural processes. Another 14% think that human activity and natural processes are pretty much equally to blame for climate change. Even adding those to the previously-mentioned 67%, however, gets us to only 81%. An additional 7% said that climate change is mostly due to natural factors, while 5% said that climate change is totally due to natural factors. Another 6% gave the answer that is supported by the currently-known data: "I don't know." As noted above, the remaining 1% think climate change is not happening.
More than 90% of the respondents had degrees in a science-related field, and a more than 60% had either a masters or a Ph.D. in a climate-related discipline. Thus, this is a fairly good sample of people who are interested in climate science and are reasonably knowledgeable about the issues related to climate change.
Based on my reading of the scientific literature and my discussions with those who are experts in climate science, the results of this survey do a pretty good job of reflecting the views of the climate community as a whole. Yes, a majority of climate scientists do think that climate change is mostly due to human activity. However, there is a sizeable minority that thinks natural processes have a lot to do with it, or that there simply is too much uncertainty in the data to give a definitive answer for what is causing climate change.
While the "97% consensus" meme makes for a very good political ad, it simply isn't correct, and anyone who uses it isn't really interested in understanding climate change.