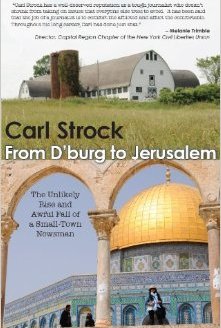 Carl Strock is a journalist-turned-columnist who recently retired from the Schenectady Gazette after 25 years of service. After he traveled to Israel and wrote some decidedly anti-Israel columns, the Gazette received numerous complaints. In response, his editor told him to stop writing about Israel for a while and submit all of his columns to her for editing. This bothered Strock, because he saw it as censorship. After continuing his columns with less frequency, he eventually retired. However, he has not stopped writing. He has a blog at the timesunion.com and has written a book, From D'burg to Jerusalem, The Unlikely Rise and Awful Fall of a Small-Town Newsman.
Why am I writing about Mr. Strock? Because in his book, he mentions a debate he had with me back in 2006. I had actually forgotten about the debate, but when a reader in Schenectady told me about being mentioned in his book, I recalled the event. I got his book and planned to read the entire thing, but it just isn't my cup of tea. However, I did read some parts of the book, including the chapter that discusses the debate. I found his view of that event to be very odd.
Here's what prompted the debate: Strock had written some columns in the Gazette regarding creationism and intelligent design. Since he obviously knew little about either subject, his columns provoked some rather heated responses, which he seemed to find surprising. Eventually, he tired of people pointing out his ignorance, so he said:
I will meet any of them in open forum, and we'll see who's ignorant of what. (p. 161)
A student who was using one of my textbooks at the time contacted me, and (of course) I agreed to meet Mr. Strock in open forum. Strock was surprised, but he agreed to the debate. I thought the debate was amatuerish but informative. Based on what he has written in his book, he obviously disagrees.
Mr. Strock seemed very disappointed in the turnout. It wasn't that the turnout was low. Quite the contrary. The auditorium was packed long before the debate started, and the organizers had to turn people away for safety reasons. Instead, he didn't seem to like the makeup of the audience:
The place had been packed for an hour, the teenagers being Christian home-schooled students who had arrived that early, many of them by bus, from all over creation, to make sure they got seats and not incidentally to make sure no one else did. (p. 157)
I am not sure how Mr. Strock knew the method by which the students were being schooled or the area of "creation" from which they came, but he seems convinced that there was a conspiracy to keep non-Christians out of the debate. Perhaps there was. I have no idea. I am more inclined to think that Christian students (especially ones who are homeschooled) tend to be more interested in such debates, so I suspect that's why the Christian students outnumbered those who were not Christians.
More importantly, I am not sure why Mr. Strock saw this as a bad thing. After all, his bombastic columns indicated that he was quite sure the data back up his position. Why wouldn't he have rejoiced to have such a large number of students to whom he could show this convincing data? After all, not long ago I did a creation/evolution debate in Indianapolis, IN and was disappointed that there were so few evolutionists in the crowd. I want people to hear the real scientific data so they can see what science actually demonstrates. Why wasn't Mr. Strock thrilled that there were so many rubes in the audience who he could patiently educate?
I think his book gives us an answer to this question. Despite the bravado expressed in his columns, it turns out that Mr. Strock really hadn't investigated the science behind the hypothesis of evolution. Instead, after he had decided to make good on his word and meet me in open forum, then he started learning about the issue:
I had three months to educate myself – we had agreed on a date that far off – and I began to scramble. I reread On the Origin of Species, and I read The Blind Watchmaker by Richard Dawkins, the best exposition for the layman I have read to this day on the workings of natural selection and one that I recommend to both the begining and the intermediate student… (p. 163) [As an aside, I agree with him on The Blind Watchmaker. I also recommend it to high school students.]
He goes on to say that he "prowled the internet" for creationist materials and read from both young-earth creationists and old-earth creationists. No wonder he didn't want a lot of creationists in the audience! He hadn't bothered to educate himself on the issue, and he was afraid that fact would show.
Well, it most certainly did.
In the debate he asked me a couple of questions that elementary-aged kids ask their parents. For example, he asked why the order of creation in Genesis 1 is different from that presented in Genesis 2. Genesis 1 says that animals were created before human beings, while Genesis 2:19 implies they were created after human beings. I explained to him that the Hebrew word which is often translated "formed" in Genesis 2:19 is more properly translated "had formed," which shows that Genesis 2 agrees with Genesis 1 on the order of creation. He said something like, "Hebrew according to Jay Wile." I said something like "No, Hebrew according to Hebrew scholars." Indeed, the NIV uses the "had formed" translation, and its translators didn't call me for advice. The key is that anyone who had spent any serious time studying this issue would have known there was an answer to the question. The fact that he didn't showed what his book clearly indicates – he hadn't studied the issue much.
Here's another reason Mr. Strock didn't enjoy the debate. The audience was interested in serious discussion, not nonsensical insults and appeals to authority. Mr. Strock tells his readers:
I submitted Wile's textbook to the aforementioned geneticist, Ricki Lewis, who lived in nearby Glenville, and also to the aforementioned geologist, George Shaw at Union College, both of whom liberally papered it with notes saying things like, "this guy knows a lot of facts and is good with twisting things," "this is so wrong I can't bear to read it," "this entire section is absurd," "pure rhetorical obfuscation" and "classic logical error (though probably intentional, either that or he's just plain stupid)," the last of which I would actually read aloud in the debate, to a reception of dead silence. (p. 164)
It seems Mr. Strock thought that appeal to authority was all he needed. He thought that because an "expert" claimed my book was wrong, then it must be wrong. Of course, any audience with a modicum of reasoning skills understands that bias can strongly affect the opinions of an "expert." Thus, if Mr. Strock wanted to attack my book (or my position), he needed to use serious arguments. He did not. In addition, he couldn't counter a single scientific argument that I proposed. No wonder he was disappointed in the crowd! They were there for a serious debate, but he wasn't.
The thing that I now remember about the debate was the end of the formal portion, before we opened it up for questions from the audience. We each had to provide a short closing statement. His was pre-written! I think that really sums up the way Mr. Strock looked at the debate. To him, it didn't matter what happened in the debate. Regardless of what was said, he would fervently hold to his faith. My closing statement was not pre-written. I referenced things he and I said in the debate and demonstrated to the audience what happens when an educated person who has seriously studied an issue is challenged to defend his position.
If Mr. Strock decides to do another debate (on any issue), I suggest that he use Dr. Robert A. Martin as an example of how to approach a debate properly. Dr. Martin has studied the creation/evolution issue long and hard, and he has serious arguments to back up his position (see here and here). He also listens to what his opponent says and responds to his opponent's arguments. Why? Because he wants the audience (regardless of their beliefs) to learn.
If Mr. Strock took Dr. Martin's approach, he would find that debates are enjoyable not only for the audience, but also for the participants!