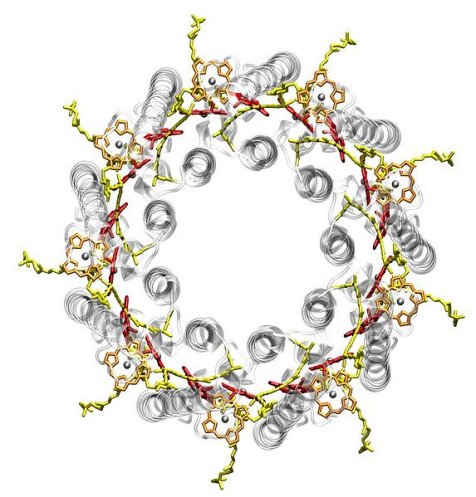 The quantum world is a strange one. In a process called "quantum tunneling," particles can pass through barriers as if they aren't there at all. As a result of a process called "perturbation," empty space can give rise to virtual particles that "blip" into and out of existence. Because of a phenomenon known as "quantum coherence," a particle can be in several different places at once. These ideas defy common sense, but they have been experimentally verified in many different ways.
It turns out that photosynthesis (the process by which some organisms convert the energy in sunlight into energy that they can use) exploits quantum coherence in an incredible way. When light strikes a photosynthetic organism, its energy must be captured so that it can be used in an amazingly complex process that will convert it from radiant energy into chemical energy. It has long been known that photosynthesis is about 95% efficient when it comes to the first step of capturing light's energy.1 Until now, however, scientists have not understood how photosynthesis could be that efficient.
After all, harvesting light in a biological environment is difficult. Even though photosynthetic organisms have a well-designed "antenna" system for capturing that light (an example is given above), a living organism is usually in motion. Its environment is also constantly stimulating it in different ways. As a result, even though the antenna system is well designed, it will be distorted and deformed as the organism moves and responds to its environment. This means there should be times when the antenna system is well-aligned, producing very efficient transfer of energy, but there should also be times where it is misaligned, reducing its efficiency. Nevertheless, photosynthesis stays very efficient, regardless of how the antenna complex is distorted.
How does the antenna complex stay efficient? The answer is incredible.
Richard Hildner and his colleagues studied the antenna complex of purple bacteria, single-celled organisms that perform photosynthesis. Unlike plants and many other photosynthetic organisms, they do not produce oxygen as a byproduct of their photosynthesis, and they are generally considered to have very "simple" photosynthetic machinery. As Chandler, Hsin, and Gumbart of the University of Illinois write:
Among all photosynthetic organisms, purple bacteria are considered to have the oldest and simplest photosynthetic apparatus, making them ideal candidates for photosynthetic studies.
What Dr. Hildner and his colleagues found, however, was anything but "simple." They found that the light-collecting antennae of purple bacteria exploit quantum coherence when they absorb a particle of light (which is called a photon). Because of this, the photon can essentially be everywhere in the antennae at once. What does this mean? It means that regardless of the current state of the antenna, the photon can explore all possible pathways in the absorption process. The most efficient pathway can then be chosen, regardless of how distorted or deformed the antenna might be! As the authors state:2
…long-lived coherences contribute to the necessary robustness against external perturbations and disorder that are ubiquitous in biological systems at physiological temperatures. In this respect, the biological function of these complexes, light absorption and energy funneling toward the reaction center, is optimized for each individual aggregate, and long-lived quantum coherences herein play an important role.
Without exploiting quantum coherence, then, the photosynthesis of purple bacteria would not be as robust. It would vary depending on the specific external perturbations and disorder that happen to be occurring at the time.
Now think about this for a moment. Purple bacteria are supposed to have "simple" photosynthetic machinery. However, even this "simple" machinery is sophisticated enough to exploit quantum mechanics – an esoteric aspect of nature that even most scientists don't understand. In fact, from an evolutionary point of view, purple bacteria were the first to evolve the process. Nevertheless, they use quantum mechanics!
Now, of course, it is always possible that earlier photosynthetic machinery in purple bacteria was simple and that evolution "tinkered" with the process for billions of years to come up with the ability to exploit quantum mechanics. However, there is no evidence for this. The fact is that the simplest, most "primitive" version of photosynthesis that currently exists in nature has already mastered quantum mechanics. As far as I'm concerned, this provides even more evidence that photosynthesis is the product of an Incredible Designer.
REFERENCES
1. Villy Sundström, "Photosynthetic Light Harvesting, Charge Separation, and Photoprotection: The Primary Steps," Photobiology: The Science of Life and Light, Lars Olof Björn, ed., Springer 2008, p. 289
Return to Text
2. Richard Hildner, Daan Brinks, Jana B. Nieder, Richard J. Cogdell, and Niek F. van Hulst, "Quantum Coherent Energy Transfer over Varying Pathways in Single Light-Harvesting Complexes," Science 340:1448-1451, 2013
Return to Text