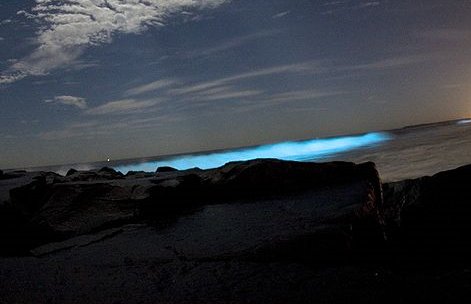 Bioluminescence is an amazing thing. Many living creatures use it to "light up" so they can communicate with others, more easily find food, or defend themselves against predators. In the picture above, for example, there are millions of single-celled organisms (called "dinoflagellates") in the water. When they are disturbed, they use bioluminescence to glow. They are glowing in the picture because the wave is disturbing them. This is actually a defense mechanism. If the water is disturbed by an animal that eats them (such as a manta ray), the dinoflagellates glow, and the light might attract a predator that will eat (or scare away) the manta ray.
E. A. Widder wrote a review1 of bioluminescence in the May 7th issue of the Journal Science, and it is fascinating. As Widder points out, there are over 700 genera (the classification level above species) of organisms that use bioluminescence, and most of them (about 80%) live in the ocean. The mechanisms by which this process works are elegant and amazing, and they certainly defy any coherent evolutionary explanation.
The basic scheme of bioluminescence is fairly simple, at least as far as the chemistry goes. A chemical reaction occurs that has enough energy to excite an electron in a given molecule. Eventually, that electron must return to its unexcited state, so it must release energy. In the case of bioluminescence, it releases its energy in the form of visible light. That's when we see a glow.
Of course, as is the case with most things, it gets very complicated once you look at the details of the process. There are many different chemicals used in nature for the purpose of bioluminescence, so to keep things as generic as possible, biochemists usually say that bioluminescence requires two kinds of molecules: a luciferin and a luciferase. The luciferin molecule reacts with oxygen, and the luciferase molecule is an enzyme that speeds up that reaction. The reaction makes a product molecule, called an oxyluciferin, with an excited electron. When the electron releases its energy, light is produced. Here is a nice animation that shows how it happens: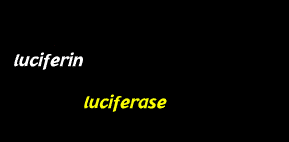 So as you can see, the luciferin reacts with oxygen to make the oxyluciferin. The luciferase is not used up in the reaction – it just helps the oxygen and the luciferin react. The result is an excited electron in the oxyluciferin, and when that electron relaxes, it emits light.
Of course, human science can synthesize luciferins and luciferases, but as is typically the case, what we can produce is primitive compared to what exists in even the simplest life form on the planet. For example, while the efficiency of a firefly's bioluminescence is 88%, the most advanced synthetic luminescence reactions designed by humans are a mere 23% efficient.2
When we look at all the different organisms that use bioluminescence, we see a lot of different luciferins and luciferases. For example, the most common luciferin in bacteria is, not surprisingly, called "bacterial luciferin." However, it is not only found in bacteria. It is found in squids and fishes as well. The luciferin used by the dinoflagellates in the picture above is (surprise!) called "dinoflagellate luciferin," but once again, it is not only found in dinoflagellates. It is also found in krill, a small shrimp-like marine animal.
This, of course, produces a problem for evolution. Remember, evolution assumes that when animals have similar structures, it is because of common ancestry. Thus, evolution would predict that if you look at organisms that use bioluminescence, you should see an evolutionary pattern in their luciferins and luciferases. Closely-related organisms should have similar luciferins and luciferases, while distantly-related organisms should have less similar luciferins and luciferases. The problem is that you don't see anything close to such a pattern.
The review article by Widder gives you an idea of the mental gymnastics this forces evolutionists to go through:
Based on the number of light-producing chemistries across the monophyletic lineages, bioluminescence is estimated to have evolved independently at least 40 times. Remarkably, not only is there evidence of independent origins within taxa (e.g., ostracods have two known chemistries: coelenterazine and vargulin) but even within individual species (e.g., the deep-sea anglerfish, Linophryne coronata, has two different light-emitting systems in adult females: bacterial luminescence in the dorsal lure and an intrinsic, unidentified chemistry in the chin barbel)3
In case you are having trouble parsing this, let me translate. Evolutionists are forced to assume that this incredibly elegant, efficient process evolved independently at least 40 different times, and the fact that these 40 different lines of evolution produced very similar lights in each case is the result of sheer coincidence. In addition, they must assume that even species which are thought to be closely-related must have independently evolved their bioluminescence, and once again, the fact that their bioluminescence looks similar is the result of sheer coincidence. As if that's not enough, they must also believe that within a given species, bioluminescence evolved independently at least twice, and once again, the similarities are due to sheer coincidence.
Of course, I have pointed out this problem before. In his excellent book Life's Solution, Simon Conway Morris discusses the vast number of situations in which organisms have very similar characteristics but a recent common ancestor cannot be incorporated into the hypothesis of evolution. As a result, evolutionists are forced to assume that the similarity is the result of evolution independently coming up with the same solution to a problem, and the fact that they look similar (even at the molecular level) is just the result of sheer coincidence.
Boy, I am glad I am not an evolutionist. I just don't have that kind of faith!
REFERENCES
1. E. A. Widder, "Bioluminescence in the Ocean: Origins of Biological, Chemical, and Ecological Diversity," Science 328:704-708, 2010 (available online with subscription)
Return to Text
2. Tōru Yoshizawa, Handbook of optical metrology: principles and applications, Volume 10, CRC Press, 2009, p. 33
Return to Text
3. E. A. Widder, Ibid, p. 707
Return to Text