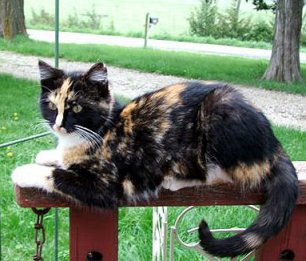 A few posts back, I commented on some experimental genetic results that throw a real monkey wrench into the generally-accepted view of the evolution of gender. Part of that post dealt with the concept of X-inactivation, the process by which one of a woman's X chromosomes is inactivated so that she has no more functional X chromosomes than a man. A commenter known as jsilverheels then asked an excellent question, which I attempted to answer.
All of that discussion related to chromosomes, dominance, recessiveness, etc. got me thinking about sex-linked inheritance. It's a common subject taught in high school biology, and it is something I discuss in my biology textbook. However, X-inactivation seemed (in my mind) to contradict something that is routinely taught in most high school biology courses. I searched the web for an answer to this apparent contradiction, but to no avail. No matter what kinds of keywords I used, I couldn't find an article that addressed this particular problem.
As a last resort, I ended up E-MAILing my sister-in-law. My wife is brilliant, and she comes from a family of brilliant people. Her oldest sister is not only an accomplished molecular biologist, she is also a dedicated college professor. I knew she would have the answer to this question, but I hate to bother people who are busy doing such productive things. Nevertheless, I really wanted an answer, so I broke down and sent her the question. Not surprisingly, she answered it straightaway. I thought I would blog about it, mostly so I would remember it later on.
WARNING: If you thought what I have posted before was geeky, you probably won't like what appears below the fold!
Continue reading "If You Thought Some of My Other Posts Were Geeky…"