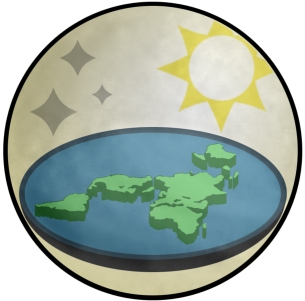 I have written about the concept of a flat earth several times before (here, here, here, and here). Since the time of Aristotle (and probably before), most philosophers understood that the earth is a sphere. In fact, Eratosthenes was able to measure the circumference of the earth's sphere around 200 BC. Thus, the idea that most ancient scholars thought the earth is flat is a complete fabrication. Indeed, the idea that people thought Columbus would sail off the edge of the world originated in works of fiction, not works of history. Nevertheless, from time to time, I encounter a modern person who believes that the earth is flat or knows someone who does. Such was the case this past weekend when I attended the Indiana Association of Home Educators annual convention.
I love attending that convention. Not only is it close to home, but the organization that runs it is incredible, and the speakers they invite are usually quite wonderful. I don't always get to attend, because I am often asked to speak at a different convention that same weekend. However, this year, I had no previous commitments, so I went to the convention to sit at my publisher's booth and give a brief talk about my new award-winning elementary science series. At the end of my talk, a homeschooling mother asked to speak with me about the fact that some people in her family were beginning to believe that the earth is flat. She asked what she could do help debunk that notion.
I talked with her for a while and gave her a couple of resources, and I also gave her my e-mail address in the hopes that her family members would send me any questions they had on the issue. However, as I started thinking about our talk, I decided it would be best to produce a page where I could gather some of the resources that clearly show the earth is not flat. It's rather ironic that an idea which could be easily refuted more than 2,000 years ago still requires refuting today. Nevertheless, I am happy to do my part.