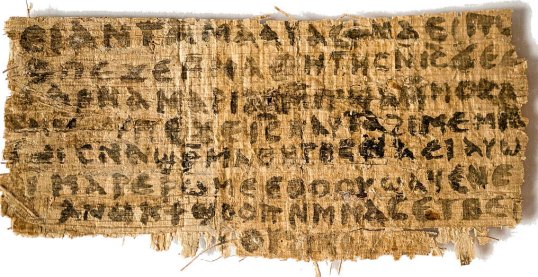 I am in China right now, and I have been here for almost two weeks. However, internet access is sporadic (at best), which is why I haven't added any articles recently. Things are a bit better today, though, so I thought I would share my thoughts on a story I recently ran across.
On September 18th, 2012 at the International Congress of Coptic Studies in Rome, Dr. Karen L. King announced the existence of an astounding 4-cm by 8-cm papyrus fragment. It contained what she thought was a 4th-century Coptic translation of a gospel that she suggested had probably been written in the late second century AD. While the discovery of any ancient papyrus that has writing on it is interesting, this particular fragment was especially interesting because it contained the following phrase:
Jesus said to them, 'My wife…"
As a result, this papyrus fragment came to be known as "The Gospel of Jesus' Wife."
In a peer-reviewed paper that was later published in the Harvard Theological Review, Dr. King presented the results of several tests that had been done on the papyrus fragment. Those tests led her to conclude that it was from the 8th century AD and was not a forgery. In the same issue of the journal, however, another scholar wrote an article concluding that the papyrus was a forgery. The Vatican weighed in as well, dismissing the fragment as a "clumsy forgery."
Since then, there has been a lot of discussion about the papyrus fragment, and a website was set up to provide all of the latest information about it. Based on subsequent tests done on the fragment and its ink, Dr. King became so convinced that the fragment is authentic that she told Time:
I'm basically hoping that we can move past the issue of forgery to questions about the significance of this fragment for the history of Christianity, for thinking about questions like, 'Why does Jesus being married, or not, even matter? Why is it that people had such an incredible reaction to this?'
Fortunately, however, there were those who were unwilling to move past the issue of the fragment's authenticity. One of those was a journalist, Ariel Sabar. Since he is not qualified to assess the fragment based on its physical characteristics or the writing that appears on it, he decided to investigate its record of ownership. He wanted to see if the facts line up with what Dr. King had been told about where it actually came from.
His investigation led to a string of lies and secrets that seemed to make it quite clear that the fragment isn't authentic. Based on what he found, even Dr. King has admitted:
It tips the balance towards forgery.
Now, of course, it doesn't surprise me at all that a papyrus fragment referring to Jesus' wife is a forgery. What I find interesting is the way the issue was resolved. Experts had weighed in on both sides – some saying it was a forgery, some saying it was genuine, and some saying that they didn't know. However, it wasn't an expert who gave us the definitive evidence. It was a journalist.
There are times when a non-expert is best suited to resolve an academic debate, and the supposed Gospel of Jesus' Wife provides us with an excellent example. Experts deserve respect, and their opinions should carry a lot of weight. However, sometimes, non-experts can do what the experts cannot.