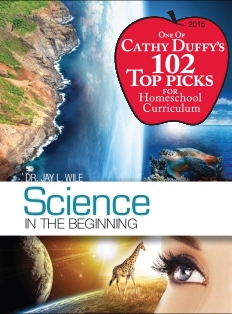 Those who have been homeschooling for many years probably recognize the name Cathy Duffy. For years, her Christian Home Educators' Curriculum Manual was the main reference homeschooling parents used to choose among their various curriculum options. Over the years, other means by which home educators can get curriculum advice have been developed. Nevertheless, Cathy Duffy continues to be a trusted resource for many homeschooling parents.
Her latest book, 102 Top Picks for Homeschool Curriculum, is a set of reviews of what she considers to be the best curriculum available to home educating parents. I was honored to find out that my new elementary science series has been included in that book. In her review, she writes:
I'm not aware of any other science curriculum similar to this. While it is a Christian curriculum, it avoids the apologetics flavor of some others that spend a lot of energy arguing for creationism and against evolution. Nevertheless, it helps students view science from Christian worldview. The use of hands-on activities to introduce lessons, the multi-age format, and the chronological approach in this series are also features likely to appeal to many families. This seems to me an excellent way to teach science, and an approach that should have exceptional appeal for classical educators.
I truly appreciate Cathy Duffy's kind words!
Of course, there are many other reviews of my new series, and most of them are very positive (see here, here, here, here, here, and here, for example). There is one negative review as well. In addition, there is one review that is a bit mixed, and it's the one that caused me to write this post.