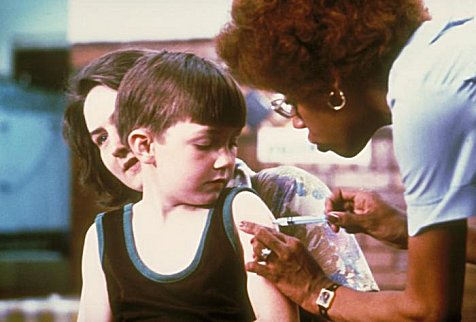 Vaccines are a powerful means by which certain diseases can be prevented. Many scientific studies demonstrate that they are both safe and effective, but unfortunately, there are those who have been convinced by misinformation produced by anti-vaccination groups. As a result, some infectious diseases are beginning to make a comeback in the United States. One of those diseases is measles.
One reason measles is making a comeback in the United States is that there are several other parts of the world where measles has a stronghold. Since world travel is common, it is easy for someone to import the disease back to the U.S. In most cases, this isn't a problem, because most travelers come into contact with people who have been vaccinated. As a result, the virus has a difficult time spreading, and the traveler is usually the only one who ends up suffering from the infection. Every once in a while, however, a traveler will come into contact with a group that has a very low vaccination rate. When that happens, the disease spreads quickly.
For example, in April of 2013, an unvaccinated person returned home to North Carolina after spending three months in India. Along with souvenirs and stories, the traveler brought home the measles virus. Two other unvaccinated family members got the disease, and in the end, there were 23 confirmed cases of the measles. The vast majority of them (18) were among unvaccinated people. Two of the measles cases were in people of unknown vaccination status, and three were in people who were fully vaccinated.
This, of course, brings up a very important point. When people refuse vaccination, they often think that the only possible consequences will be to them and their family, but that's just not true. No medicine, including vaccines, is 100% effective. Thus, there will be a small percentage of people who get the vaccine but are not fully protected against the disease. When unvaccinated people provide a breeding and transmission population for the disease, this increases the risk to all people, even those who are vaccinated.
Another example of such a measles outbreak occurred in late 2013. A traveler with an unknown vaccination history had visited Indonesia. Upon returning, the traveler went to a church in Texas in which the pastor had been critical of vaccinations. As a result, many of the members were not vaccinated against measles. In the end, 25 people were struck by the illness, and the vast majority of them were either unvaccinated or have no known vaccination history.
Last year's largest measles outbreak was the result of a similar story. In March of 2013, an unvaccinated teen returned to Brooklyn, NY from London. The traveler carried the measles back to an orthodox Jewish community that avoids vaccination. There were 58 identified cases of the measles that came as a result of this exposure, and all of them were in people who were either unvaccinated or had no known vaccination history. In this outbreak, one child got pneumonia as a complication, and two pregnant women had to be hospitalized. Unfortunately, one of those women miscarried.
It is truly sad that the anti-vaccination movement can mislead as many people as it does. There is simply no good scientific evidence to support most of their claims. Not long ago, a group dedicated to anti-vaccine misinformation sponsored a debate between me and an anti-vaccine scientist. The debate went so poorly for the anti-vaccine position that the group removed all mention of it from their website. If you would like to watch the debate, however, you can get it here. (Thanks to Matt Fig for converting it to Youtube format!)
If you have been misled by anti-vaccine propaganda, please take the time to read from my collected articles on vaccination. Like all medicines, vaccines have side effects, and there are some people who should not get them. This is why you should consult with a physician who knows your family's medical history before taking any medication. However, for the vast majority of people, the risk associated with not following the standard vaccination schedule is significantly higher than the risk associated with doing so.