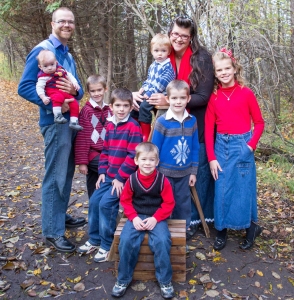 I ran across an interesting article on my Facebook news feed yesterday. The author (a mother of seven) wrote it from hospital* quarantine, because all seven of her children have pertussis, which is better known as "whooping cough." While her older ones are getting better, her younger ones are still struggling. What is so important that she thought she should write the article now? Because she wants people to know that had she vaccinated her children, she most likely wouldn't be where she is right now. She had been convinced that vaccines pose too much risk and too little benefit, but now she understands how wrong such a notion is. She hopes to help others learn from her mistake.
Ironically, she had already been convinced that the anti-vaccine movement was wrong before her kids ended up in the hospital. In fact, she and her family doctor had worked out a catch-up vaccination schedule for all her kids, but before they could start it, pertussis raged through her household. Here's how she expresses it:
…the irony isn't lost on me that I'm writing this from quarantine. For six years we were frozen in fear from vaccines, and now we are frozen because of the disease.
She expects some backlash from the anti-vaccine community, and some gloating from the pro-vaccine community. However, I applaud her for making her story known. I hope others will read it and benefit from it. As she says:
Right now my family is living the consequences of misinformation and fear. I understand that families in our community may be mad at us for putting their kids at risk. I want them to know that we tried our best to protect our kids when we were afraid of vaccination and we are doing our best now, for everyone's sake, by getting them up to date. We can't take it back…but we can learn from this and help others the same way we have been helped.
This mother isn't the first to experience tragedy because of misinformation about vaccines. A mother named Tammy contacted me several years ago and said:
Thank you for your vaccine stance and research! I am a mother who had heard some "horror stories" and was wary of vaccines. As a result, my 3 year-old daughter (now 7) went deaf in one ear due to complications of chickenpox. I have since immunized my younger son (& dear daughter has been immunized against all other known diseases for which vaccines were appropriate).
Two other mothers have written me with similar stories (here and here).
Now please don't misunderstand what I am saying. I am not saying that children should be vaccinated because of the experiences of these four mothers. I am saying that children should be vaccinated because the science is very clear: vaccines are both safe and effective for the vast majority of people. Anecdotes like these simply illustrate the importance of making the correct decision.
Please see Jo's comment below. They may not be in hospital quarantine, even though the article makes it sound that way.
Return to Text