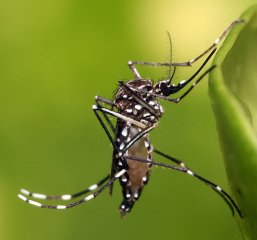 As I have mentioned previously, vaccines are one the greatest medical advances God has allowed us to discover. They work by "pumping" your immune system so that it is ready to repel a pathogen (like a virus or bacterium) before you are infected. That way, your immune system doesn't have to figure out how to fight the pathogen. It already knows what to do, and that gives it a head start, making your body much less likely to succomb to the disease.
Of course, the best way to prevent infectious disease is to prevent the infection to begin with. We try to do that with good sanitary practices, but they can only go so far. Regardless of how well we clean our surroundings, pathogens still manage to infect our bodies. In fact, some research is now indicating that we might be a bit too sanitary for our own good.
Medical historians are convinced that the rise in polio the U.S. experienced in the late 1940s and early 1950s was caused by good sanitary practices. When sanitary practices were rather poor, people were regularly exposed to small amounts of the polio virus, usually when they were babies and therefore had the extra protection given to them by the antibodies they received through their mothers' milk. Their immune systems were able to conquer the weak exposure to the virus with the help of their mothers' antibodies, and thus they became immune. As sanitary practices improved, however, fewer people were exposed to small amounts of the virus as infants. As a result, when they were exposed to concentrated amounts of the virus (from a person who already had the disease, for example), they would succumb to the disease.1
Some medical researchers take the lesson from the history of polio a step further. They believe in the hygiene hypothesis, which suggests that if a child grows up in an environment that is too clean, he or she will be more likely to contract a host of diseases later on in life, because the child's immune system was not challenged enough early in life. While the data are not clear enough to determine whether or not the hygiene hypothesis is reasonable, there are some interesting studies that lend support to it.
So…is there a way to prevent infection of a specific parasite without making our surroundings "too clean" and without injecting something into people? The surprising answer might be, "Yes!"
In a very interesting series of experiments, researchers in Australia have been studying the Aedes aegypti mosquito, which carries the virus that causes dengue. If a person is bitten by a mosquito that carries the virus, they can succomb to dengue, which causes horrific joint and muscle pain. While it is a problem in some areas of Australia, it is more prevalent in countries like Vietnam and Thailand. There is currently no effective vaccine that can be used on people, so the only way to stop the spread is to reduce the prevalence of the mosquito, which is a very difficult task.
The Australian researchers might have found another answer, however. They have found that when the Aedes aegypti mosquito is infected by a bacterium called Wolbachia pipientis, it is very resistant to the virus that causes dengue. In addition, they have found that the bacterial infection spreads rapidly among mosquitoes in a laboratory setting. Even more importantly, female mosquitoes that are infected pass that infection on to their young, so the bacterial infection will continue across mosquito generations.2
Starting this month, the researchers will begin infecting wild Aedes aegypti mosquitoes in Australia with the bacterium. They hope that it will spread as rapidly in the real world as it does in the lab. If so, the mosquitoes will rapidly become resistant to the virus that causes dengue. That means they will be much less likely to carry the virus, which means they will be much less likely to transmit the virus to people.
So in essence, the researchers hope to "vaccinate" a huge population of mosquitoes against a virus. This will, hopefully, reduce the number of mosquitoes that get infected by the virus, which will in turn reduce the number of humans that get infected by the virus. That's cool – fighting infection in humans by "vaccinating" mosquitoes.
Of course, the real question is, "How will the mosquitoes deal with the rapid rise in autism due to this vaccination program?" I am sure the International Medical Council on Vaccination will get right on that!
REFERENCES
1. Hileman, B., "Risk Assessment in Medical Innovation," Chemical and Engineering News, May 5, 2003:29-34.
Return to Text
2. M Enserink, "Australia to Test 'Mosquito Vaccine' Against Human Disease," Science, 330:1460-1461, 2010.
Return to Text