A student sent me the video you see above. In it, a man highlights a South African geological curiosity. He says it is a giant footprint in rock that is somewhere between 200 million and 3 billion years old. He goes on to say that it is so amazing it should be drawing 20 million tourists to South Africa every year, but no one knows about it. He then takes you up a hill to the geological formation, and he shows you what appears to be a huge footprint in a wall of rock. The man points out the features of the "footprint," and he ends the video with the statement, "There were giants on earth."
I had the privilege of visiting South Africa in 2004. It is an amazing country, and the people there are simply marvelous. I would strongly recommend it as a vacation destination. However, I wouldn't put this site on my "top 20" list of things you should see. While it is an interesting geological formation, it is almost certainly not a footprint.
The first problem with the idea that it is a footprint comes from the type of rock in which it is found. The man in the video says that the rock is granite. Now, I am not a geologist, so I can't be sure that the man is right, but the rock's appearance is consistent with it being granite. Well, granite is an intrusive, igneous rock.1 What does that mean? An intrusive rock is one that is formed underground. An igneous rock is one that is formed from molten rock, such as magma. So if this rock is granite, there is no way it could harbor a footprint. The only time a foot could have sunk into it was when its temperature was several hundred degrees, and it was below the surface of the earth!
Even if the rock isn't granite, there are other features that indicate this formation is probably not a footprint. The man in the video makes much of a shelf of rock that is found at the "toes" of the "footprint." In his mind, this was caused by the giant pulling his foot out of the "mud" into which it sank. This pulled up some of the "mud," piling it at the "toes." However, if you look at the size of the rock shelf, it seems almost as tall as the footprint is deep. Try making a footprint that piles mud in front of your toes as high as your footprint is deep. It's difficult, to say the least. At minimum, I can say I haven't seen such a structure on any human footprint that I have found on the beach or in the mud. I also haven't seen one in any fossilized human footprints (see here and here, for example).
In addition, consider the size of the person needed to make the footprint. The man says the footprint is about 4 feet high. Well, a person's foot length is about 15 percent of his or her height,2 so the person who left this footprint would have been about 27 feet tall! The Bible mentions giants, but it never mentions any that are close to 27 feet tall. The largest giant referenced in the Bible is probably Og, the king of Bashan (Deuteronomy 3:11). According to the Scripture, his bed was 9 cubits (13.5 feet) in length. Most beds are larger than their occupant, but only by a couple of feet. Thus, Og might have been as tall as 12 feet or so. The tallest giant whose actual height is mentioned is Goliath, and he was 6 cubits and a span, or about 9.7 feet tall (1 Samuel 17:4). In the end, the size of the person needed to make such a footprint seems to rule out the possibility that it is really a footprint.
So what is this thing that is being interpreted as a giant footprint? It is most likely a strange shape that formed as a result of erosion. If you look throughout creation, you will find many examples of this, such as Roccia Dell'Orso (the bear rock). This granite formation is a tourist attraction in the Republic of Palau: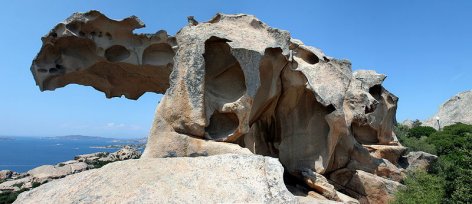 It is famous for being shaped a bit like a bear. However, it also demonstrates a common feature of granite that is exposed to erosion – cavernous holes that are technically called tafoni.
Most likely, that's what this "giant footprint" is. It is probably a tafone (singular of tafoni) that just happens to be shaped a lot like a human foot.
REFERENCES
1. Joanne Mattern, Igneous Rocks And The Rock Cycle, Rosen Publishing Group 2006, p. 20
Return to Text
2. Esther Beck, Cool Physical Evidence: What's Left Behind, ABDO Publishing 2009, p. 18
Return to Text