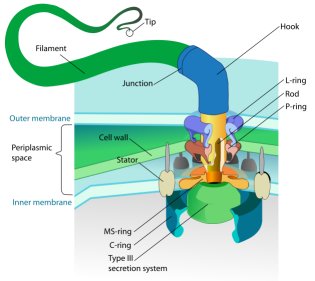 The bacterial flagellum has become a symbol of the intelligent design movement, and rightly so. After all, bacteria are commonly recognized as the "simplest" organisms on the planet. Nevertheless, these "simple" organisms can make an amazingly well-designed locomotive system. Well, it turns out that the flagellum isn't the only example of the amazing things that bacteria can construct. It seems that they can construct batteries as well!
I saw a blurb about this in the March 1, 2010 issue of Chemical and Engineering News, so I went online to find more information. I found this article on Nature News. According to the article, Lars Peter Nielsen of Aarhus University (in Denmark) did some experiments to see how bacteria are able to consume organic compounds and hydrogen sulfide in sediments that have very little oxygen. You see, in order to use these compounds, the bacteria have to oxidize them, which means that have to remove electrons from them. In order to remove electrons from the chemicals they consume, however, the bacteria have to "put" those electrons somewhere else. In most organisms, the electrons go to oxygen molecules. This process, reasonably enough, is called oxidation, and it is the reason you and I breathe. We take in oxygen so that we can oxidize our food, which produces energy for us to live.
It is very easy to understand how most organisms oxidize their food, because most organisms are exposed to a reasonable amount of oxygen in the air they breathe or the water in which they swim. However, there are lots of sediments (on the sea floor, for example) that are low in oxygen underneath the surface of the sediments. Nevertheless, bacteria in those oxygen-poor sediments seem to oxidize organic compounds and hydrogen sulfide just fine. Nielsen wanted to know how they accomplish this feat.