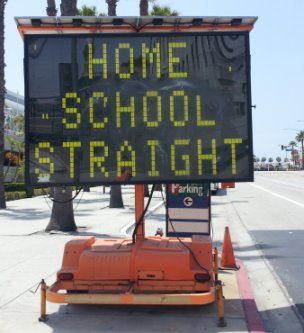 This past weekend, I spoke at the California Homeschool Convention, which is one of the Great Homeschool Conventions. Many home educators attend conventions like this one to get advice from various "experts" on homeschooling, and for this convention, it seems that even the convention center where the event was held wanted to put in its two cents. The facility put out the sign shown on the left, and it was the first thing most people saw as they drove into the convention center. Obviously, the advice is sound, and I hope that the attendees took it to heart!
I gave a total of six talks at the convention, and most of them were for the teens. However, there was one, entitled "What Are They Doing Now?", that is specifically for the parents. The talk focuses on homeschool graduates and what they are doing with their excellent education. First, I share some statistics, such as the fact that homeschool graduates are more likely to have college degrees and more likely to be in college than their non-homeschooled peers.1,2 I then turn to a discussion of some individual homeschool graduates who are, literally, making the world a better place.
The homeschool graduates I talk about are all doing amazing things. For example, one is a medical doctor and bioethicist, another is an undercover operative for an intelligence agency, and still another is part of a non-governmental organization that is making better nutrition available to those in third-world countries. Many of them have impressive degrees, and many of them skipped university and started making a positive difference in the world right out of homeschool.
I met one of those graduates who started changing the world right out of homeschool. At the ripe old age of 17, she felt the Lord leading her to an orphanage in Monrovia, Liberia. This was not part of some organized trip, and she didn't know anyone there. She simply felt the leading of the Lord, convinced her parents, and ended up going to that terribly dangerous country because she wanted to help those who had no hope. The orphanage specialized in adopting these children out to parents in developed countries, giving them a chance for a safe, happy life. She thought the Lord wanted her to be a part of such a life-changing ministry.
Continue reading "The Long Beach, California Homeschool Convention"