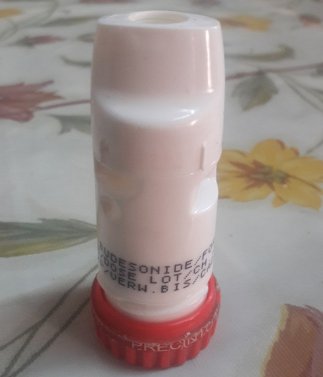 A new study was recently posted on Medrxiv, a preprint server that allows you to post research articles that are currently being reviewed for publication. This particular study focused on using a very common inhaled medication, budesonide, as a treatment for COVID-19. It was conducted in a single community in the UK and used 146 subjects, all of which were over the age of 18 and had experienced symptoms suggestive of COVID-19 for 7 days or less. All were given the standard treatments for COVID-19, but half were also given an inhaler that contained budesonide and were told to use it twice per day. The authors wanted to see if this medication, which is known to reduce exacerbations related to COPD and asthma, would be effective in reducing the severity of COVID-19.
The study indicates that it is very effective. The authors found that 10 people in the group getting the normal treatment had a COVID-19-related urgent care visit, emergency department assessment, or hospitalization. Only 1 person in the group that got the usual treatment plus budesonide had that kind of outcome. In addition, the group that got budesonide recovered, on average, a full day earlier than those who did not get it. Finally, fewer patients in the budesonide group had persistent symptoms after 14 and 28 days. Thus, it seems that budesonide does aid in the treatment of COVID-19.
What prompted the study? As the authors state:
In early reports describing COVID-19 infection from China, Italy and the United States, there was a significant under representation of patients with asthma and chronic obstructive pulmonary disease (COPD) in patients hospitalised with COVID-19. We hypothesized that this may be due to the widespread use of inhaled [chemicals like budesonide] in these patients. (reference marks removed by me)
It looks like their hunch turned out to be right. Now, of course, there are limitations to the study. The sample size is reasonable, but not as large as that of a full-scale clinical trial. Also, it was conducted in a single community, which would provide a more homogenized group of people than a study conducted over a large geographic range. Nevertheless, the results are so dramatic that it is hard to understand how these limitations could invalidate the results.
If you end up experiencing COVID-19 symptoms, ask your physician about this study and whether or not budesonide might be a viable treatment option for you. Please note that like all medications (and foods), this medication has potential side effects in some people, so you shouldn't take it without consulting a physician who knows your medical history.