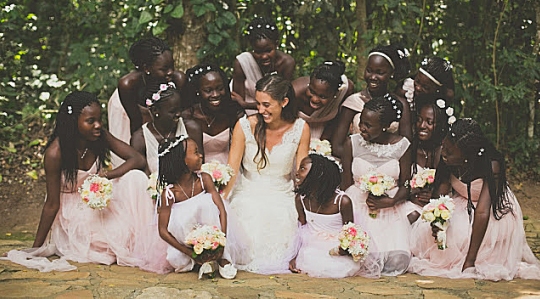 About four years ago I read a book that touched me more deeply than I can describe. It is entitled Kisses from Katie and was written by Katie Davis, who is one of the most amazing people about whom I have ever read (and I have read about a lot of people). At the ripe old age of 16, she decided that God was calling her to be a missionary. During her senior year in high school, she did some part-time missionary work in Uganda, and after she graduated high school, she went back there to do full-time missionary work. I blogged about her book, and I encourage all those who follow Christ to read it. It is a remarkable tale of what can happen when a person listens to God's still small voice (1 Kings 19:12) and follows His lead.
One of the many reasons I was touched by Katie's story is that we share something in common; we are both adoptive parents. I wrote an article about how my wife and I adopted our daughter, and it barely compares to Katie's story. My wife and I had a comfortable home, a good dual income, and the young lady we adopted was a healthy teen who attended our church. Katie had no husband, was doing missionary work (for which there is never enough money), and the 14 daughters she ended up adopting were unhealthy strangers with whom Katie didn't even share a common culture. However, she has the heart of Christ, and that's all it really takes. If you are wondering why there are only 13 daughters in the picture at the top of this post, one of them was taken back by the birth parent after Katie had lovingly nursed the little girl back to health.
Because her book touched me so deeply, I read her blog from time to time. She doesn't write very often (I can't imagine how she finds any time to write), so I don't visit it very often. However, I recently went there to catch up, and I read an incredibly touching post that I simply had to share. It is written to the adoptive mother who doesn't really feel like a mother, and the message of the article resonated with me, because it mirrors my own experience as an adoptive parent.
Most of the people who have observed my daughter and I together for any length of would call me a doting father. I am wrapped around her little finger, and there is simply nothing that can be done about that. Why? The answer is simple: I love her. It's important to note, however, that such intense, emotional love didn't happen right away. Katie describes this masterfully:
From the moment I met my children I loved them in the way that a heart feels they must love another human being, especially one in need of care. I felt that God made it clear to me that I was to raise them and this intensified my love into a fierce, protective, sacrificial love, but it didn't change the fact that it takes some time to make strangers into family.
That's exactly right. At first, we weren't even considering adopting Dawn. We just knew that she needed a safe place to heal, and we provided that, because the Lord was leading us to do that. Once we decided to adopt her, that kind of "caring love" intensified into something much more sacrificial, but it still didn't make me into a doting father. As Katie says, it takes time to make a stranger into a member of your family.
As I have written previously, God molded my heart and my wife's heart around our little girl so that now, she is an inseparable part of our little family. But that didn't happen overnight. It didn't even happen over the course of a few months. As Katie writes:
Love is a thing that grows.
If you have recently adopted a child, give your love the time it needs to grow. I assure you, it is well worth the wait!