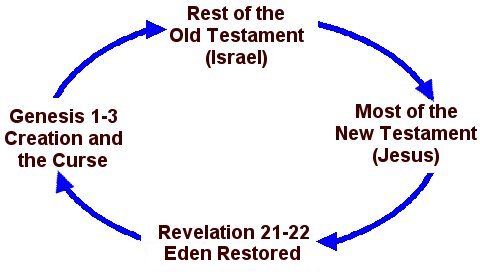 Now that the Southeast Homeschool Convention is over, I am headed back home. Before I start my trip, however, I want to briefly share a new Biblical insight I received from Dr. Peter Enns. I went to his talk entitled, "What Is the Bible, Anyway (and what do we do with it)?" Dr. Enns started his talk with several different ways that Christians tend to read the Bible. For example, he said that many Christians read the Bible as an "owner's manual" for life. They look for specific "rules" in the Bible that apply to specific situations in their lives. While there is validity to that view, it tends to concentrate on the details you find in the Bible, missing the Bible's big picture. He went through several other ways that Christians tend to read the Bible, and while they all have validity, they all suffer from the same weakness – they miss the big picture of the Bible.
I have to admit that I have always concentrated on the details of the Bible. I think it has to do with my scientific training. I tend to focus on the details, as that is where I tend to find the data I need as a scientist. As a result, I never had the big picture of the Bible in mind. Dr. Enns provided it for me.
He said that if you really think about the Bible from beginning to end, it is split into four basic sections, listed in the diagram above. The Bible starts with creation and the curse. God created a magnificent world that was "very good." It was not perfect, but it was very good. Then the Fall happened, which brought on the curse. The rest of the Old Testament contains the details of the nation of Israel, whose entire purpose was to bring us Jesus, Who would be able to bring us back to God. Most of the New Testament deals with Jesus, His work, and how we are to follow Him. The last two chapters of the New Testament (Revelation 21-22) tell us about the new heaven and new earth, which include a new Eden. In other words, by the end of the story, we are back where we started – we are back in Eden. He said if you think about the Bible this way, you find:
The Bible is God's grand story, and the main point of that story is to tell us the lengths to which He will go in order to bring us back to him.
What a wonderful way to think about the Bible's big picture. Thank you, Dr. Enns!