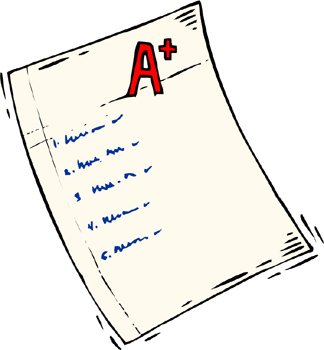 A Facebook friend of mine posted this news story on my wall. It's from a local newscast in Pensacola, Florida, and it reports on homeschooled student Dawn Van Iderstine, who got a perfect score on her ACT (a standardized test used for university admission). While such scores are not unheard of, they are rather rare. The newscaster says fewer than 1% of students who take the ACT receive a perfect score. While that's technically correct, it would be more accurate to say that fewer than one-tenth of one percent of students are able to achieve that score. In 2014, for example, only 0.076% of those who took the ACT received a perfect mark of 36. Obviously, then, Miss Van Iderstine is to be commended. She has accomplished something that very few students have accomplished.
This young lady has been homeschooled since kindergarten, but that's not why my Facebook friend posted the news story on my wall. If you watch the video, at the 18-second mark, you will see Miss Van Iderstine pulling books out of her backpack. The first one that comes out is the second edition of Advanced Chemistry in Creation, which is one of my books. While it was neat for me to see that, it's not why I am writing about this amazing young student. There are several things in the news story that really impressed me about her, and the perfect ACT score relates to only one of them.
I learned that Miss Van Iderstine received a score of 32 when she first took the test. As the newscaster says, that's a great score. It is within the range found among the majority of students who go to Harvard. However, this young lady was not satisfied. She wanted to do better, so she took the test a second time, and that's when she got her perfect score. I know a lot of students who would have stopped after getting a 32 on their first try. After all, that's a great score, and most students are happy with a great score. However, this young lady thought she could do better, so she studied and tried again. It clearly paid off.
While her academic prowess as demonstrated by her perfect ACT score is impressive, that's not the most impressive thing about Miss Van Iderstine. The news story goes on to note that she has been on four missions trips, three of them overseas. I know a lot of high-school students who go on one or two mission trips before they head off to university, but I don't know many who go on four. Also, the video interviews the preschool director of her church, and during that clip, it is obvious that Miss Van Iderstine is putting together supplies to make boxes for Operation Christmas Child, an outreach program for poor people in other countries.
The story stresses her love for children, and in fact, she loves her siblings so much that she doesn't want to be too far from them. As a result, she wants to go to university close to home. Her ACT score (and other accomplishments, such as second place in her region's spelling bee) will allow her to go to just about any university, but the fact that she doesn't want to be far from family is, in my opinion, a rare and wonderful thing. When my daughter chose to go to a university close to home, she said one reason was that she didn't want to be far from us. That meant the world to me.
However, the thing that most impressed me about this young lady was something she said towards the end of the interview. The reporter says that Miss Van Iderstine plans to be a stay-at-home mom and homeschool her own children. The video then cuts to her, and she says:
If this is what God wants me to do, then that is so much more important to me than anything I might think I should do.
Now I know what some people might think. Wouldn't that be a "waste?" Shouldn't she go into a professional field that will utilize her amazing talents? Not necessarily. We definitely want smart, talented people training the next generation. Some will do that by teaching at a school or university, and others will do that by staying at home with their children. No talent is wasted when it is spent on children.
Now please understand that I am not saying she should be a stay-at-home parent because she is a woman. I hope she doesn't believe that, either. Instead, I hope that she is being honest in what she says. I hope her future plans are the result of what she honestly thinks God wants her to do. I hope that she continues to look to the Lord to guide her in what she is to do with her life. If she does, that will be the most impressive thing about her.