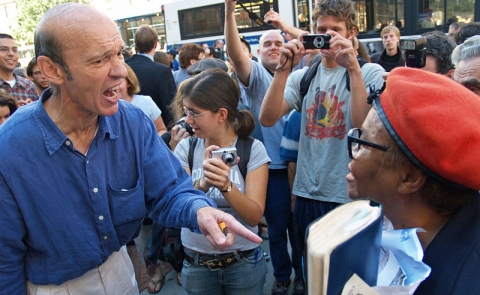 One of the many uninformed criticisms of homeschooling is that it promotes intolerance. The Encyclopedia of Distributed Learning, for example, summarizes how the National Education Association sees it:1
Critics, among them the National Education Association, argue that…because they are not exposed to the broad range of socioeconomic and ethnic groups found in conventional classrooms, home schooled children may become bigoted and intolerant.
Until now, I had never seen any studies on the issue, but my personal experiences with homeschoolers don't give any credence to this idea. In my personal experience, homeschooled children are significantly more tolerant than those who come from public and private school.
Of course, my personal experience is not a good gauge for the homeschooling movement as a whole. I tend to interact with homeschooled students who first reach out to me, through email, Facebook, or homeschooling conventions. Since they are reaching out to me, they are part of a self-selected group of homeschooled students who many not represent the norm. As a result, I read with interest a recent article in the Journal of School Choice: International Research and Reform. In it, the author discusses what studies exist regarding private schooling, homeschooling, and intolerance. He then he reports his own findings on the subject.
Let's start with the author's discussion of what previous research has been done on the issue. Most of the research is related to private schools, and the author contends that the literature shows that privately-schooled students are at least as tolerant as publicly-schooled students. That was only marginally interesting to me, because it doesn't really relate to homeschooling, which is the focus of my work.
He tries to discuss some research related to homeschooled students, but it mostly centers around how involved they are in civic activities. In my opinion, that tells us nothing about the level of intolerance in homeschooling, since intolerance can lead to a high civic involvement. After all, as militant evolutionists have already demonstrated, if you don't want alternate views to be discussed, one way to get that accomplished is through legislators or the legal system. Thus, I didn't think that part of the article was very useful.
However, at one point he conjectures why it is reasonable to assume that homeschooled students are more tolerant than their peers, and I think he hits the nail on the head:2
Individuals who are less secure in their identity tend to feel more threatened when their views are challenged. Hence, they wish to control or even quell these threats and ultimately are more uncompromising in their actions and outlook. Because homeschooling is a highly personalized educational arrangement and usually constitutes holistically introducing students to a particular worldview and way of life, homeschooled students typically attain a higher degree of self-actualization. Consequently, homeschooled students may be more politically tolerant than those who attend a traditional public school. In fact, traditional public schools may be an institution that stunts self-actualization for some of its students because it threatens those students' sense of self by endorsing a worldview that clashes with the one held by those students. [references removed for clarity]
That has been my experience. Homeschooled students are simply more comfortable in their own skin, specifically because of the homeschooling model. As a result, they tend to be more tolerant, because they don't feel as threatened by opposing views.
Once again, however, my personal experience is not necessarily representative of homeschooled students in general, and his conjecture is interesting, but in order to be taken seriously, it needs to be backed up by some hard data. That's where his own research comes in. He gave a survey to 304 students at a private Christian university in the western United States. He doesn't indicate which university, but I suspect it is Biola University, because that's where the author got his undergraduate degree.
He reports that the survey he gave (the content-controlled political tolerance scale) is a widely-used instrument that measures political tolerance, and it has been validated in several different studies. He does a statistical analysis of his survey results and reaches the following conclusion:
…among a relatively homogenous group of undergraduates, all of whom attend an evangelical Christian university, those with more exposure to homeschooling relative to public schooling tend to be more politically tolerant.
While I think this conclusion is valid, I also think more studies like this need to be done. One of the serious weaknesses of the study is the small number of homeschooled students. Of the 304 participants, only 15 of them had been homeschooled K-12. Another 23 of them had been homeschooled for 7-12 years, and another 26 had been homeschooled for 1-6 years. The statistical error related to such small groups is fairly large, and the difference he finds between the tolerance of homeschooled students and the others is fairly small. It could be that when studies like this are done on larger groups, the difference will decrease. Of course, it could increase as well. The fact is, we won't know until more studies are done.
However, I do think that one firm conclusion we can draw from this study is that those homeschooled students who attend Christian universities are at least as tolerant as the same kinds of students who were privately- or publicly-schooled. That, in an of itself, is a very important result. Of course, I doubt that such research will change the arguments coming out of the National Education Association. That organization has already shown its disdain for the data when it comes to discussing homeschooling.
REFERENCES
1. Encyclopedia of Distributed Learning, Anna DiStefano, Kjell Erik Rudestam, and Robert Silverman (ed), Sage Publications 2004, p. 222
Return to Text
2. Albert Cheng, "Does Homeschooling or Private Schooling Promote Political Intolerance? Evidence From a Christian University," Journal of School Choice: International Research and Reform 8(1):2014 DOI:10.1080/15582159.2014.875411
Return to Text