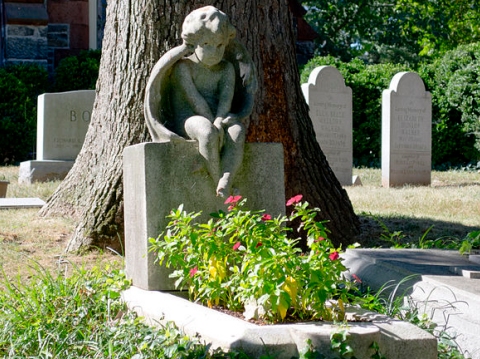 When my wife and I were in Barbados with her parents a few years ago, we toured an old church on the island. Like many old churches, it had a graveyard in back. Several of the gravestones had epitaphs, but some did not, because those epitaphs were actually inside the church. Some of them were hanging on the walls, and some were even a part of the church's floor. I read several of them, but there is one I will never forget. It was for a woman, and part of it read:
The last privilege vouchsafed to her on earth was to teach her husband and her children how a Christian ought to die.
I teared up as I read that sentence, and I wondered if someone would be able to say something similar about me one day.
For some reason, that epitaph brought home to me in a very real way a simple truth that should have been quite obvious: One way I could learn about how to deal with tragedies in my own life is to watch how my brothers and sisters in Christ deal with their own tragedies. As I have started doing this, I have found that some of my Christian brothers and sisters are negative role models – they show me how I shouldn't deal with such situations. Thankfully, that's not always the case.
On August 23rd, I learned that some friends of mine (a young couple) in Seattle had experienced a tragedy. She was delivering what was expected to be a healthy baby boy, but a complication arose. As a result of that complication, the baby (named Teddy) went without oxygen for 12 minutes. Teddy was rushed to Seattle Children's hospital. The hospital staff worked tirelessly. The parents prayed. Their friends prayed. Family rushed in to offer support. A Facebook prayer group sprung up. Teddy fought valiantly.
On September 3rd, he passed away.
This was the young couple's first child. Understandably, they were devastated. Throughout the entire process, however, they never lost sight of their Savior. They didn't give the typical, "Christianese" response, plastering fake smiles on their faces and saying, "It's all in God's hands." Instead, they shared their very real pain as well as how their very real faith was helping them to cope. I want to give you a feel for what I mean by quoting something the young father wrote:
We've been snuggling with Teddy, singing worship songs, crooning Sinatra, and humming lullabies. We've been kissing his face, his hands, his head, telling him stories about Jesus and his family and his mom and dad.

This is what we call our God Bubble. The pain is real, the tears flow steadily, the anger simmers beneath the surface of the shock. But we cherish moments instead of wasting them fantasizing over What Ifs. We gaze into Teddy's peaceful face instead of slamming our fists into walls. We read Psalm 23, inserting Teddy's name into the verses, instead of cursing the air. And when the nightmare invades our peace we weep, we pray, we hold the ones nearby. When the horror raises its head we surrender ourselves and our baby boy to God, our father who loves us more than we love Teddy, and beg for this suffering to pass us by — then accept whatever our faithful God decides to bless us with.
This young man is about half my age, but he has wisdom beyond my years. He and his precious wife have taught me more about how a Christian should deal with tragedy than a thousand sermons given by the world's best preachers ever could.
My heart goes out to my friends, because I am sure this is a pain that will never leave them. But my heartfelt thanks go out to them as well. My life was changed by watching how they lived through this horrific situation, and I am certain that many others can say the same thing.
Please Note: This was posted with the permission of Teddy's father.