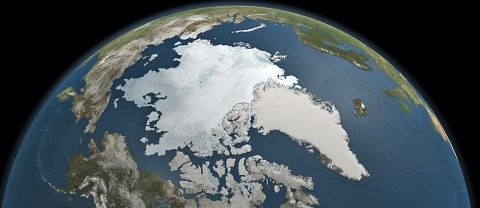 In 2008, former Vice President Al Gore was speaking to a German audience and stated:
The entire north polar ice cap may well be completely melted off in five years.
In his Nobel Prize acceptance speech, which he gave on December 10, 2007, he stated:
Last September 21, as the Northern Hemisphere tilted away from the sun, scientists reported with unprecedented distress that the North Polar ice cap is "falling off a cliff." One study estimated that it could be completely gone during summer in less than 22 years. Another new study, to be presented by U.S. Navy researchers later this week, warns it could happen in as little as 7 years.

Seven years from now.
Of course, he thinks human-made global warming is to blame.
So depending on which prediction you believe, Al Gore thought there would be no more ice at the North Pole by 2013 (five years after his speech in Germany), 2014 (seven years after his Nobel Prize acceptance speech) or 2029 (22 years after his Nobel Prize acceptance speech). It's obvious which one Gore favored. He mentioned it twice in the quote above: 2014.
Let's look at the latest measurements of Arctic sea ice to check the former vice president's prediction.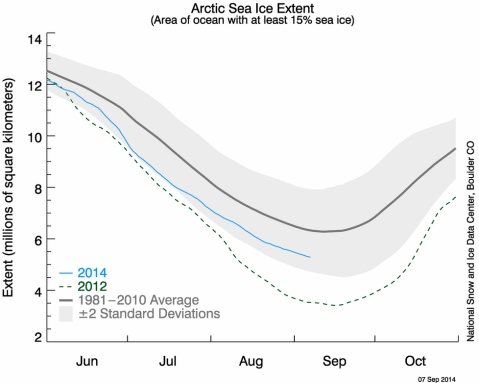 Obviously, Mr. Gore's favored prediction is clearly wrong. The dark gray line in the graph is the average Arctic sea ice extent as measured from 1981-2010. The gray area represents the range over which 95% of the measurements in that time period fall. The dashed green line represents the measurements made in the year with the least amount of ice on record (2012), and the blue line is this year. The amount of ice in the Arctic is below average, but it is clearly not zero. Also, there is significantly more ice in the Arctic than there was two years ago.
Now I don't want to paint the wrong picture here. The amount of ice in the Arctic has been (on average) decreasing ever since we have been measuring it with satellites, as shown by the following graph, which gives you the average amount of Arctic sea ice for August of each year: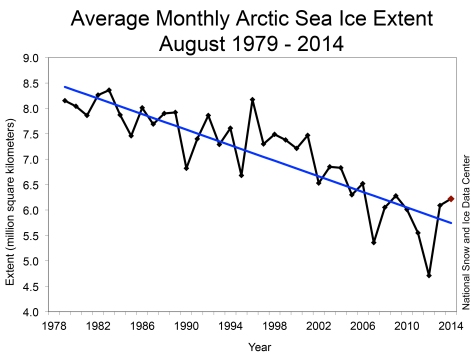 So we clearly have a losing trend when it comes to Arctic sea ice. However, it isn't the trend of Vice President Gore's favored prediction. That trend would have reached zero by now.
Okay, so he was wrong in two of his three predictions about when the Arctic would be ice-free. However, based on the trend, can't we say it will eventually happen? Can't we see this as evidence for global warming? I don't think so. Why? Because if we look at the other side of the globe, we see the opposite trend: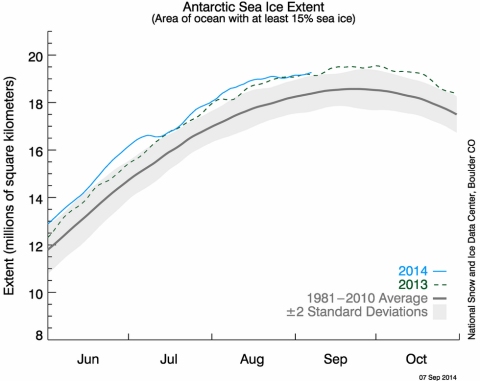 Notice that the amount of ice this year (blue line) is higher than last year and well outside the 95% gray area. So while Arctic ice is below average, Antarctic ice is way above average. In the same way, the trend has been upward since the time we started measuring it with satellites: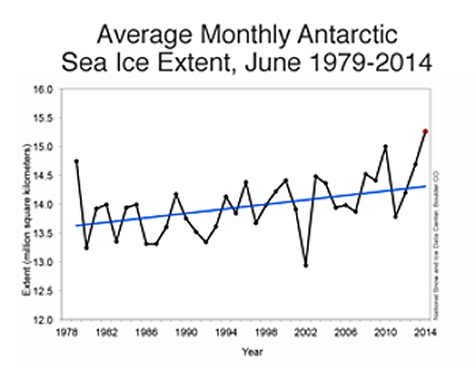 So whatever is going on with sea ice, it is certainly not global. While the Northern Hemisphere is clearly losing sea ice, the Southern Hemisphere is clearly gaining sea ice. If you want to claim that the loss of sea ice in the Arctic is due to human-caused global warming (as Vice President Gore and many, many others do), what is to blame for the rise in Antarctic sea ice? Global cooling?