I am a nuclear chemist. I chose to be a nuclear chemist because studying the nucleus fascinates me. It's amazing enough to study something we can never hope to actually see, but the fact that the nucleus is shrouded by clouds of electrons makes the job all the more fun.
Because I am a nuclear chemist, there are certain things I don't want to believe. For example, I don't want to believe quantum mechanics is wrong just because it is incompatible with general relativity. Don't get me wrong, I don't want general relativity to be wrong, either. Black holes, white holes, and wormholes are just far to fun to ever want to give up! Nevertheless, if I have to choose one of those two theories to be wrong (because they are incompatible), I will to choose general relativity, because quantum mechanics works so incredibly well when it is applied to small things like the nucleus.
For a long time, there was something else I didn't want to believe. I didn't want to believe that the half-lives of radioactive isotopes could change. It seemed so clear to me at the time: radioactive half-lives depend on the energetics of the nucleus, and the energy levels in the nucleus are (roughly speaking) about 100,000 times that of the electrons in an atom. Thus, if nature exposes a radioactive atom to stress, the electrons should be the ones that deal with the stress, not the nucleus. The nucleus is under the electron cloud, and it deals in energies that are so much greater than electron energies, that the electrons effectively "shield" the nucleus from being affected by most of the stress that nature can throw at it.
Over the years, however, the data have drug me (kicking and screaming the entire way) to the point where I have to admit that radioactive half-lives can change, and in some cases, they can change quite substantially.
For example, Otto Reifenschweiler showed that when tritium (a radioactive form of hydrogen) was incorporated into small particles of titanium and heated, the radioactivity of the tritium decreased by 40%1. This means the half-life of the radioactive decay increased. F. Raiola and his collaborators saw a roughly 6 percent decreased half-life for a radioactive form of polonium when it is layered in copper metal. 2. Interestingly enough, Raiola's paper references another study that I am waiting on from interlibrary loan in which the same form of radioactive polonium had a 300% shorter half-life when it is layered in palladium. (NOTE: After reading the paper, I think Raiola and colleagues misinterpreted the results; they do not imply a 300% shorter half-life.)
Nuclear chemists and physicists have no coherent model to account for these changes in radioactive half-life. However, that is not unusual. It often takes generations for theorists to actually explain why experimentalists see what they have seen. Also, the explanation is not nearly as important to me as the fact that it clearly can happen, even though all my education (through graduate school) said that such a thing is clearly impossible.
In fact, it seems that what was considered impossible just 20 years ago is being demonstrated all over the place. Indeed, there is now clear and convincing evidence that the rate of radioactive decay varies (slightly, but still measurably) based on the distance between the earth and the sun! 3 Interestingly enough, two independent labs have been seeing this effect since the early 1980s, but both were too afraid to publish the results, thinking they were making some systematic error. Instead, the error is clearly in the assumption that radioactive half-lives are constant.


The most dramatic demonstration of the idea that radioactive half-lives are not necessarily constant, however, has been provided by young-earth creationists. Back in 1982, Robert Gentry was studying zircons in what is supposed to be Precambrian rock, which is supposedly 1.5 billion years old. 4 He found an enormous amount of helium trapped in those zircons, and that doesn't make sense if radioactive half-lives were always the same.


You see, helium is a product of one type of radioactive decay – alpha decay. In this form of radioactive decay, a nucleus spits out two protons and two neutrons to become a completely different nucleus. Those two protons and two neutrons capture two free electrons, producing a helium atom. In the zircons studied, uranium and thorium were the nuclei that spit out alpha particles, making helium atoms. Well, in the lab, this kind of helium production is very slow, because the rate-determining half-lives for the alpha decay are very slow. Thus, if radioactive half-lives have always been the same, we can assume that the helium production in these zircons occurred very slowly over time.
So what happens to the helium that is produced? Well, it is a small atom, and it is unreactive. Over time, then, it simple "squeezes" through the spaces in between the ions that make up the zircon, escaping the zircon. This is much like the helium-filled latex balloons you buy from the store that stay inflated for only a few days. The helium inside the balloon actually "squeezes" in between the polymers that make up the latex, escaping the balloon.
The situation, then, is that helium is produced in the zircons, but then it escapes from the zircon. If radioactive half-lives have always been what they are right now, then the helium production in zircons is slow. It was always assumed (but not measured until recently) that the rate at which helium escapes from zircon is relatively fast. Thus, a slow rate of helium production coupled with a fast rate of helium escape means that there should not be any appreciable helium in the zircons Gentry was studying. However, there was. This indicated to Gentry (and some others) that helium must have been made significantly faster in the past. In fact, it was being made so fast that it could not escape quickly enough, and the amount of helium in the zircons "piled up" to the point where it is still trying to escape today.
To see if this reasoning was right, another young-earth creationist, D. Russell Humphreys, decided to find out if anyone knew the rate at which helium escaped from zircon. He found that it had never been measured. Therefore, he decided to get someone to measure the rate at which helium escapes from zircon. However, before the study was commissioned, he proposed two scenarios: 5
1. Assume that radioactive decay rates have always been the same and that the rocks are 1.5 billion years old, as assumed by old-earth geologists.
2. Assume that there was a "burst" of very fast radioactive decay about 6,000 years ago which produce a quick buildup of helium, and the helium has been escaping since then. During the "burst," radioactive half-lives would have been VERY SHORT compared to what they are today.
What is nice about these two scenarios is that they each need a specific rate of helium escape in order to be true. If option (1) is true, the rate of helium escape must be very slow – slower than the rate at which helium is currently produced in zircons. If option (2) is true, the rate of helium escape must be much faster. Thus, each scenario provides us with a prediction for how quickly helium should be able to escape from zircon. It turns out that the helium escape rates predicted by these scenarios are different by more than a factor of 100,000.
So here we have two different predictions for the rate at which helium escapes zircon, and at the time the prediction was made, no one knew what that rate was. Humphreys then commissioned a group that didn't know any of the details of this work to go into the lab and actually measure the helium escape rates. Guess what was found?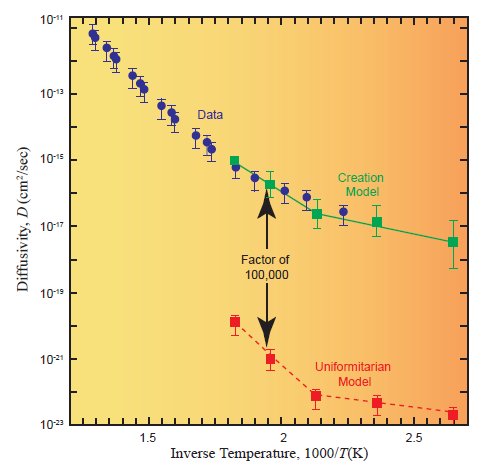 (taken directly from reference 5, page 55)
The red curve, labeled "Uniformitarian Model," is option 1. The green curve, labeled "Creation Model," is option 2. The blue dots with error bars are the data, measured by a group that didn't know anything about either model. Note that the data say option 2 is right and option 1 is miserably wrong.
To me, this is very striking. After all, in the scientific method, you produce a hypothesis, and you then use that hypothesis to make predictions about the data. If the data fall in line with those predictions, there is evidence for the hypothesis. This is exactly what was done here. The hypothesis that radioactive half-lives have been constant for 1.5 billion years led to one prediction, and it fails miserably when compared to the data. The hypothesis that radioactive half-lives were significantly shorter a few thousand years ago led to a prediction that ended up being supported by the data, once the data were actually measured by an independent party.
As a result, even though I don't like it, I have been drug, kicking and screaming the entire way, to the distasteful conclusion that radioactive half-lives are not constant. I don't like it, but science isn't something you necessarily like or don't like. It is something that is determined by the data, regardless of how ugly it ends up being.
REFERENCES
1. O. Reifenschweiler, "Reduced Radioactivity of Tritium in small Titanium Particles", Phys. Lett. A, 184:149 (1994).
Return to Text
2. F. Raiola, et. al., "First hint on a change of the 210Po alpha-decay half-life in the metal Cu", Eur. Phys. J. A 32:51–53, 2007
Return to Text
3. Jere H. Jenkins, et. al., "Evidence for Correlations between Nuclear Decay Rates and Earth-Sun Distance," arXiv preprint 0808.3283v1 [astro-ph], August 25, 2008. Available online
Return to Text
4. Gentry, R.V., et al., "Differential Helium Retention in Zircons: Implications for Nuclear Waste Management," Geophysical Research Letters, 9:1129-1130, 1982
Return to Text
5. Young Helium Diffusion Age of Zircons Supports Accelerated Nuclear Decay
Return to Text