Al Gore told a German audience in December of 2008 that the polar ice cap will disappear in FIVE YEARS.1 A Washington Post story from April of this year says
The data on this winter's ice buildup came on the day that international ministers gathered in Washington to address issues facing Earth's polar regions, which have been disproportionately affected by global warming. 2
It goes on to quote Norway's foreign minister that "The ice is melting…We should all be worried."
Well, Al Gore, the Washington Post, and Norway's foreign minister should all be breathing a sigh of relief. As all climatologists agree, the poles should be most affected by global warming, and guess what's happening at the South Pole? The ice just keeps growing!
Marco Tedesco and Andrew Monaghan just published the latest results on the amount of ice melt in Antarctica, and the results are quite stunning: 3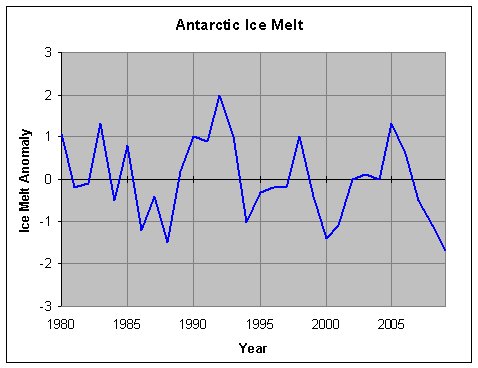 An "Ice Melt Anomaly" of zero would mean that the amount of ice that melted had not changed from the overall average. Positive values mean that more ice than usual melted, while negative values mean less ice than usual melted.
What trend do you see in the data? The amount of ice that has been melting in the Antarctic has been steadily decreasing for 30 years. Thus, while the Northern Hemisphere (the Arctic) has lost ice over the past 30 years, the Southern Hemisphere (the Antarctic) has gained ice. If the Arctic were losing ice because of "global warming, " why is the Antarctic gaining ice?
Remember, as every climatologist agrees, the poles should be most affected by any "global warming" that occurs. Thus, if global warming is happening, BOTH the Arctic and the Antarctic should be losing ice quickly. The fact that one is losing ice and the other is gaining it points strongly against the idea that "global warming" is happening.
REFERENCES
1. http://www.youtube.com/watch?v=KrPCUWWjh0c&feature=player_embedded
Return to Text
2. "New Data Show Rapid Arctic Ice Decline," Juliet Eilperin and Mary Beth Sheridan, Washington Post, Tuesday, April 7, 2009
Return to Text
3. Tedesco M. and A. J. Monaghan, "An updated Antarctic melt record through 2009 and its linkages to high-latitude and tropical climate variability," Geophysical Research Letters, 36 L18502, doi:10.1029/2009GL039186, 2009
Return to Text