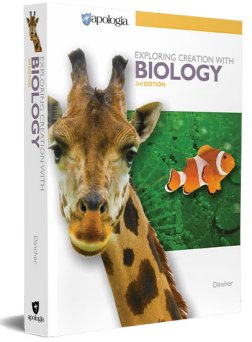 The company that initially published my science textbooks has been slowly coming out with new editions, which is necessary. Science constantly changes, which means the textbooks must change as well. So far, I strongly recommend two of their new editions: The Human Body, 2nd Edition and Exploring Creation With Marine Biology, 2nd Edition. Another new edition, Exploring Creation With General Science, 3rd Edition, was not good enough for me to recommend, but I also don't recommend against using it. Two other new editions, Exploring Creation with Chemistry, 3rd Edition and Exploring Creation With Physical Science, 3rd Edition, have so many flaws that I strongly recommend against using them. This edition belongs in a completely different category: I can recommend it for students in a classroom setting or in a homeschool co-op that has a leader who knows biology well. However, I strongly recommend against it for homeschooled students working independently.
The main reason is simple: there is way too much material in the book. Like a traditional classroom text, this book aims a firehose of facts at the students and turns it on at full pressure! There are infographics packed with facts throughout the text, modules in excess of 40 pages of content, and a single experiment that combines three experiments from the second edition of the course. Simply put, this book is too much for a typical high school student. As a result, the student needs a teacher to separate the essential material from the non-essential material. In addition, because the book packs in so much information, it cannot spend adequate space explaining things. Thus, a teacher must be there to explain the things that the book does not.
Unlike the same author's physical science book, however, this one is not full of scientific errors. There are only three serious errors, the worst of which is this statement:
When I took high school biology in 1977, the Time magazine headline read 'How to Survive the Coming Ice Age' because scientists believed we were in the midst of a global cooling event.
Time never ran a magazine with that title anywhere in it. The author probably saw the Photoshopped image of Time's April 9, 2007 cover in which the date was changed and the actual headline, "Global Warming Survival Guide," was replaced with the false headline she mentions. While it is true that there were several scientists who feared we were heading into a global cooling event in the mid-70s, the scientific discussion was not covered much in the popular media. It was mostly confined to the scientific literature.
There are some minor errors in the book as well, such as saying that Linnaeus separated organisms into seven taxons. In fact, he used only five. The other two were added later. However, those errors are not bad and will not affect the student's future education in any serious way.
There are some parts that will really confuse students. Not only are some topics inadequately explained, many of the figures are so small that you can't see what you need to see. For example, in one experiment the student is supposed to use a biological key for several pictured organisms, including grape and corn plants. However, in order to use the key, they need to see the veins on the leaves, and the pictures are too small for that. The author also uses terms that I cannot find an explanation for (like epigenetics). In addition, there are times where something is presented but not explained until later. For example, one figure has the equation ATP makes ADP + P without explaining what ADP and P are until several pages later. The index is also sparse and is missing crucial formatting in certain places.
There are many things I didn't like about the text, including the fact that like the author's physical science course, the student text is softcover. However, those things don't necessarily make it a bad text. They just make it a text that I don't like. The complete review is below, including the three serious science errors I found, the 10 minor science/history errors I found, the 16 parts that I think will be confusing to students, the three things I liked, and the 15 things I didn't like.
My Complete Review of Exploring Creation With Biology, 3rd Edition
NOTE (added 3/10/2021): I received this feedback and thought it might be useful for some:
A friend sent your review of "Exploring Creation With Biology, 3rd Edition" from Apologia to me, and I can't tell you what a relief it was. Unfortunately, my 10th grader's homeschool science curriculum/co-op uses this text almost exclusively. She came to me today in tears crying, "Mom, I don't understand any of this." She's a very smart kid, but this text is blowing a "firehose of facts" at her.