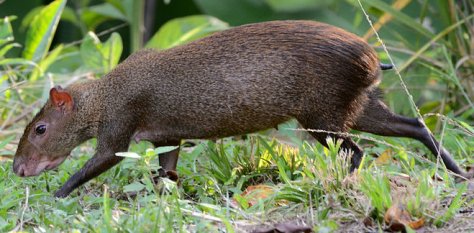 When I was in Costa Rica last year, I saw several Central American agoutis, such as the one pictured above. I didn't know anything about them, so when I got back home, I looked up some information. They can be omnivorous, but they prefer to eat seeds and fruit. One of their interesting behaviors is to follow troops of monkeys. They "hang out" underneath the trees that the monkeys climb, and they eat the fruit that the monkeys drop or inadvertently shake off the trees.1
Another really interesting thing about the Central American agouti is that it's a scatter hoarder.2 This means it collects seeds and buries them in multiple locations. It remembers these locations and returns to them when food is scarce. However, it doesn't just bury them once and leave them there. It often revisits its stores of seeds, digs them up, and reburies them somewhere else.
While this behavior is beneficial to the agouti (it provides storehouses of food for when food is scarce), it is also beneficial to the trees that drop the seeds. That's because the agouti rarely uses all of its stored seeds. As a result, some of the buried seeds grow and develop into new trees. This means that the Central American agouti is, in fact, a "farmer" for the trees. It moves seeds away form the tree that drops them and plants the seeds so they can grow into new trees.
Why is this beneficial to the trees? If a seedling grows too near the tree that dropped the seed, it ends up competing with its parent tree. That's not good for the parent or the seedling. By carrying the seed far from the tree and planting it, the agouti allows the seedling the chance to grow without competing with its parent. Pretty nifty, huh? Well, recent research shows its even niftier than that. It turns out that these "tree farmers" are smarter than we originally thought.
While it's great that a scatter hoarder like the agouti takes a seed to a place where it will not compete with its parent, what about other trees of the same species? If a scatter hoarder moves a seed away from its parent tree but near to another tree of the same species, the seedling still has to compete for the same resources. That's not much of a benefit to the seedling or the species as a whole. The question is, "How often does this happen?"
Ben T. Hirsch and his colleagues decided they would answer this question. They radio tagged 589 black palm seeds so they could follow the seeds as they were picked up by agouti and moved from place to place. It turns out that 224 of them were actually picked up and buried so they could be followed. Hirsch and his colleagues followed these seeds for a total of 1 year.
In their analysis, they compared how the agoutis moved the seeds to a model that assumed the movements were random. What they found was that the movements were not random at all. Instead, the agoutis moved the seeds so that they were more likely to be in areas with few black palm trees! In other words, the agoutis were moving the seeds to places where they would experience less competition with other trees of the same species!3
Why would they do such a thing? The authors do not know. However, they speculate that perhaps the agoutis understand that black palm trees are where other agoutis will look for seeds, and so they hide the seeds they have found far from such places, out of fear that other agoutis will find them. They also suggest that perhaps the agoutis bury their seeds in places where they don't see as many other agoutis. Once again, since the agoutis hang around black palm trees, this results in the seeds being buried in areas with few black palm trees. Regardless of the reason, the authors make this point:
In conclusion, we found that the behaviour of agoutis results in directed dispersal towards areas with low conspecific tree densities. As the same ecological pressures that lead to directed seed dispersal by agoutis are likely present for other scatter-hoarding animals, we expect that the patterns observed here are a widespread phenomenon in habitats in which food trees are unevenly distributed. Scatter-hoarding animals can generate seed dispersal patterns that are fundamentally different from patterns produced by other dispersal types (e.g. frugivores, wind or water), and may be far more effective seed dispersers than previously assumed.
If you don't recognize the term, "conspecific" just means "of the same species."
I certainly agree that the phenomenon they found in their research is probably widespread in nature. After all, that's exactly what I would expect from a cleverly-design ecosystem!
REFERENCES
1. Mark Wainwright and Oscar Arias, The mammals of Costa Rica: a natural history and field guide, Comnstock Publishing 2007, p. 220
Return to Text
2. Laurie Agopian and Illene Miller, Rain Forest, Teacher Created Resources 2004, p. 37
Return to Text
3. Ben T. Hirsch, Roland Kays, Veronica E. Pereira1, and Patrick A. Jansen, Directed seed dispersal towards areas with low conspecific tree density by a scatter-hoarding rodent, Ecology Letters 15:1423–1429, 2012
Return to Text