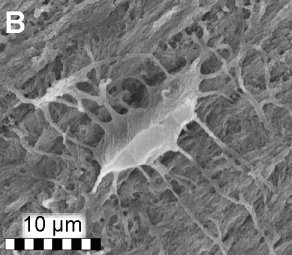 In three previous articles (here, here, and here), I discussed bones that are supposed to be millions of years old and yet have soft tissue and large organic molecules in them. This is quite hard to understand if the fossils truly are that old, since soft tissue and large organic molecules are expected to decay fairly rapidly, even under ideal conditions. For example, an interdisciplinary approach to understanding how large organic molecules such as protein and DNA could be preserved over time suggested that even if a fossil were kept at the freezing point of water, collagen (a protein found in bone) should decay away so that it becomes undetectable in just under three million years.1 Nevertheless, collagen has been found in fossils that are supposed to be more than twenty times that old!
Of course, if you are desperate to believe in an ancient earth and are therefore forced to think such fossils are really that old, you could hope that either very special conditions existed for the fossils in which the soft tissue and proteins were found, or you could hope that the soft tissue and proteins were the result of some kind of contamination. A recent paper in PLoS ONE has, in my opinion, laid both of those hopes to rest.
The paper examines samples from a mosasaur fossil that is 70 million years old, according to scientifically-irresponsible dating techniques. A microscopic analysis of this fossil showed all sorts of amazing things. For example, when the bone was etched with acid and then examined with a microscope, several structures that look like mature bone cells (called osteocytes) were found. In addition, all sorts of fibrous tissue was found, and amazingly enough, that fibrous tissue absorbed dye just like connective tissue from a modern bone!2
But what was the fibrous tissue made of? The authors show beyond all reasonable doubt that it contained collagen, which is a complex protein found in all bones. In my mind, their detailed analysis is part of what makes this paper so important.
As I stated before, some who are desperate to believe that fossils like this mosasaur fossil really are tens of millions of years old want to believe that any soft tissue or proteins recovered from them don't really belong to the fossil itself. Instead, they are the result of recent bacterial contamination or some other process that would yield fibrous organic tissue. However, the authors show that this is just not possible.
For example, they used infrared light to probe the fibrous tissue that they isolated from the fossil, but instead of using a standard source for this infrared light, they used a particle accelerator known as a synchrotron. This produces incredibly high-intensity infrared light, which can provide significant details on the molecules in the tissue. They compared the results they obtained with tissue from their fossil to those obtained with bacterial cells and bacterial biofilms, and they show quite conclusively that the fibrous tissue in the fossil could not possibly be the result of bacterial contamination. They also compare their results to a sample of pure collagen and to the fibrous tissue from a modern monitor lizard. The results are completely consistent, indicating that the fibrous tissue from the fossil is not only reptile tissue, but it is reptile tissue that contains a lot of collagen.
They did several other tests on the tissue recovered from the fossil to conclusively demonstrate that they had recovered collagen from it. For example, they exposed it to antibodies that are designed to bind with collagen, and the antibodies did, indeed, bind to molecules in the fibrous tissue. This is important, because if the collagen in the fossil had decayed significantly, the antibodies would not bind well to it. They also examined the amino acids that were in the fibrous tissue, and the distribution was exactly what you would expect for collagen and other structural proteins. In the end, they make the strong case that the collagen they found really was from the original mosasaur that formed the fossil and that said collagen retained much of its original chemical structure.
These results, while impressive enough, are not the only important results that come from this paper. In fact, this paper tells us something about what to expect from the fossil record in general. As the authors note:
Thus, the preservation of primary soft tissues and biomolecules is not limited to large-sized bones buried in fluvial sandstone environments, but also occurs in relatively small-sized skeletal elements deposited in marine sediments.
This makes their results all the more important. It is one thing to have soft tissue and proteins preserved in a large bone that was buried in fluvial sandstone. After all, the large bone might protect the fragile tissue, and fluvial sandstones are supposed to have been deposited by rivers. Thus, it is likely that the sediments which formed the sandstone weren't inundated with water for a long time. So even though finding soft tissue and proteins in a large bone that was encased in fluvial sandstone for millions of years is surprising, you might be able to imagine that the environment offered some special conditions that helped to prevent the expected decay.
However, these results come from a small bone, and the bone was found in sediments that should have been soaked in water for a long time. This makes it extremely hard to believe that the fossil had any special conditions that would help keep soft tissue and proteins from decaying away relatively quickly.
Of course, if one takes the more reasonable approach and is willing to consider that the fossil isn't anywhere close to 70 million years old, the results of this incredible study are a lot easier to understand.
REFERENCES
1. Nielson-Marsh, Christina, "Biomolecules in fossil remains: Multidisciplinary approach to endurance," The Biochemist, 12-14, June 2002
Return to Text
2. Johan Lindgren, et. al., "Microspectroscopic Evidence of Cretaceous Bone Proteins," The Biochemist, PLoS ONE, 2011
Return to Text