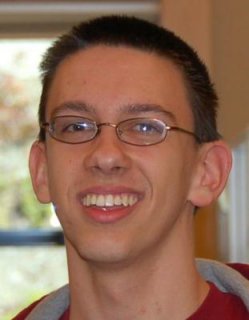 I have met a lot of really impressive homeschooled students over the years. Some of them have won spelling bees, geography bees, debate tournaments, and the like. Some of them have risked their lives going as missionaries to countries where they could have been killed for sharing the Gospel. Some of them have sacrificed greatly to help others in need. Some of them have dedicated themselves to raising another generation of homeschooled students. Some of them simply radiate the love of Christ to all who have the privilege of meeting them. I am usually not surprised, then, when I read about a specific homeschooled student and his or her special accomplishments.
However, I have to admit that I was shocked to open up the March 25, 2011 issue of Science and read a short interview with Evan O'Dorney, the winner of this year's Intel Science Talent Search. If you aren't familiar with this program, it is the nation's most prestigious high school science competition. Students from across the nation submit their original science research, and the winner receives a $100,000 scholarship to the university of his or her choice. There 39 other awards given out, ranging from $75,000 to $7,500. I was privileged enough to work with a high school student (Alexis Michael) who ended up receiving an award from this competition back in 1993, when it was named the Westinghouse Science Talent Search.
It didn't surprise me that Science ran an interview with the winner of this prestigious competition. They generally do that each year. What surprised me was that the article actually mentioned that the winner is a homeschooler.
When I decided to see if I could find out a bit more about this homeschooler, I learned that this is not his first honor. In 2007, he won the Scripps National Spelling Bee. His team placed third in the 2010 International Mathematical Olympiad, and his individual score in that competition was second overall. He is also a two-time winner of "Who Wants to be a Mathematician?"
In the Science article, he was asked why teenagers don't like math as much as he does. His answer was excellent:1
It seems like sometimes the teachers in the public schools make it dry and boring. When I went to the library, I found books that really exposed the fun and beauty of mathematics, but teachers often just want to teach the rote memorization and skills that [students] need for the test.
This is typical of how homeschooled students learn. Instead of depending on a teacher, they go to the library and find books that make a subject come alive for them!
His winning project sounds quite incredible. There are several ways you can try to approximate the square root of an integer. He looked at two of the methods, an infinite fraction method and an iterative fraction method. Often, both methods will produce the same result. Evan derived what Science calls an "elegant formula" to determine when that will happen.
Obviously, Evan O'Dorney is an amazing student. However, I hasten to add that I have met many, many homeschooled students who are just as amazing as him. I met one young lady who graduated homeschool at 17 and then went to Monrovia, Liberia to work at an orphanage there. She didn't go there with a group, and she didn't know anyone in Liberia. She just felt called by the Lord to leave her comfortable home and go to a country that is poor, dirty, and dangerous. She answered that call and ended up helping Westerners adopt African orphans. I met a young man who graduated homeschool and went to work as an engineer in a country where it is illegal to be a Christian. Even though his "real" job is that of an engineer, he went there specifically to spread the Gospel in that country. He could be killed if he is caught doing that. I met a young lady who has three university degrees and was on track to be a judge. However, when she had her first child, she put her professional ambitions aside, because she felt led to homeschool her children.
All of these students are amazing. Some of them, like Evan, win prizes for their accomplishments. Others don't win prizes, but they are no less amazing. Indeed, in some ways, they are even more amazing, because they are doing what they are doing despite the fact that there are no earthly rewards.
Now please do not compare yourself or your children to any of these amazing homeschooled students. That's not the reason I posted this article. Instead, I wanted to tell you about students like Evan so you would see that homeschooling not only works, but it works in so many different and incredible ways. It produces students who win awards, students who change lives, and students who make the world a better place.
Regardless of the gifts God has given you or your children, homeschooling allows you to cultivate them in unique ways. The key is not to worry about what someone else thinks you should be doing with your children. Worry instead about what God wants you to do with them. If you do that, they will turn into real superstars!
REFERENCE
1. "Newsmakers: Three Q's," Science 331:1500, 2011.
Return to Text