The golden toad, Bufo periglenes was a cute little animal: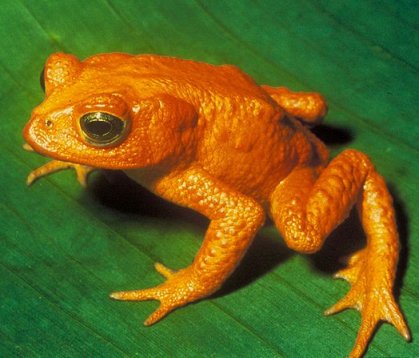 Unfortunately, it is now extinct. Why is it extinct? Well, in 2006, the journal Nature published an article that claimed it was the result of global warming:
"Here we show that a recent mass extinction associated with pathogen outbreaks is tied to global warming. Seventeen years ago, in the mountains of Costa Rica, the Monteverde harlequin frog (Atelopus sp.) vanished along with the golden toad (Bufo periglenes)…Analysing the timing of losses in relation to changes in sea surface and air temperatures, we conclude with 'very high confidence' (> 99%, following the Intergovernmental Panel on Climate Change, IPCC) that large-scale warming is a key factor in the disappearances…With climate change promoting infectious disease and eroding biodiversity, the urgency of reducing greenhouse-gas concentrations is now undeniable.1
Of course, lots of popular outlets picked up on that. The Nature Conservany said
In 1999, the death of the last Golden Toad in Central America marked the first documented species extinction driven by climate change.
The golden toad (Bufo periglenes) and the harlequin frog (Atelopus varius) of Costa Rica have disappeared as a direct result of global warming.
In the book The No-Nonsense Guide to Climate Change, we read:
The golden toad of Costa Rica hold the dubious distinction of being the first extinction that can be laid at the door of climate change.2
There is only one problem. The conclusion of the Nature paper is probably not correct.
In the latest study, a group of researchers looked at old-growth trees from the area and attempted to reconstruct moisture levels in that region over the past century. Instead of finding the long-term drying trends that would be expected for global warming, they found that the forest's dry spells correlated with El Niño, a natural cycle. Thus, they reach a completely different conclusion:
There is no evidence of a trend associated with global warming. Rather, the extinction of the Monteverde golden toad (Bufo periglenes) appears to have coincided with an exceptionally dry interval caused by the 1986–1987 El Niño event.3
Now remember, the Nature article claimed that the authors' had a 99% confidence level that their conclusion was correct. We now know that they were probably wrong. Interestingly enough, the confidence level of their conclusion is significantly greater than the 90% confidence level with which the IPCC concluded that global warming is real and is being caused by humans.
REFERENCES
1. J. Alan Pounds, et. al., "Widespread amphibian extinctions from epidemic disease driven by global warming," Nature 439:161-167, 2006
Return to Text
2. Dinyar Godrej Verso, The No-Nonsense Guide to Climate Change 439:161-167, 2006
Return to Text
3. J. Alan Pounds, Ibid, p. 161
Return to Text