I am back in Indiana now, and I am already missing Alaska. I just never got tired of seeing backdrops like this: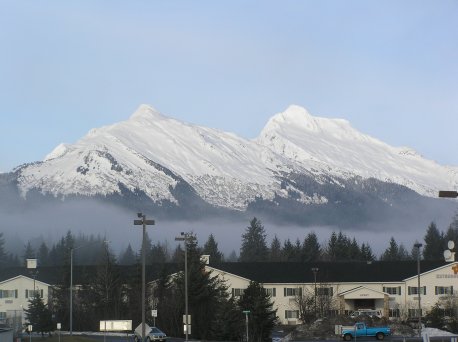 As I said before, I was speaking to parents and educators in Alaska's largest public high school, called IDEA. It is an innovative partnership between a public school and home education. Essentially, the school gives parents the resources to educate their children at home, including curriculum, teacher support, and regular evaluations. It allows for a lot of flexibility so that many people can be comfortable homeschooling under the supervision of the state. Independent homeschooling (with no direct government intervention) is also done in Alaska, so IDEA is another solution that helps to meet the diverse educational needs of the people of Alaska. Other states should look at IDEA and see how they can adapt it for themselves.
I started my tour in Juneau (Yes I know, but Juneau?). I actually got "fogged in" after I spoke in Juneau. The mountains trap clouds so well that fog often makes it hard for airplanes to land. You can see a bit of that from this picture: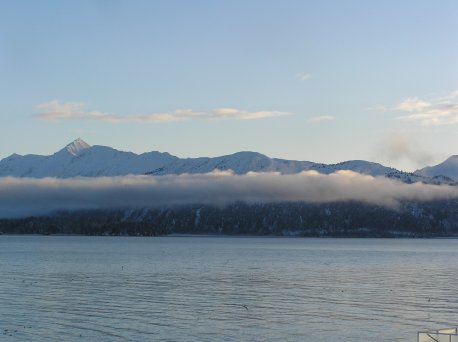 Because of the fog, I actually missed my second gig, which was at Soldotna. The people were wonderful about it, however. Some of them traveled quite a distance to get to my next stop (Homer), but some were unable to make it. Homer was overall probably the most beautiful of my stops. In the late morning, it looked like this: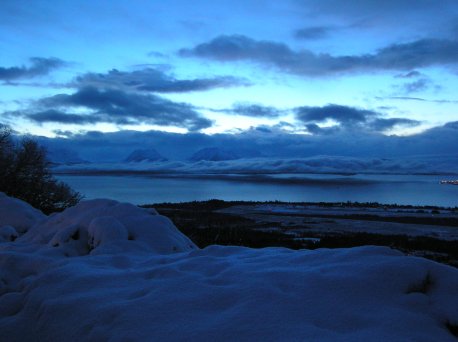 The vantage point from which I took that picture allowed me to get a picture of where I was about to speak: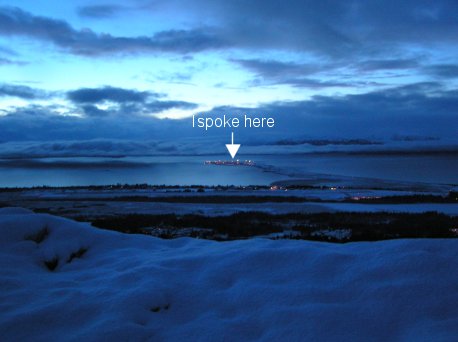 Needless to say, I had a hard time concentrating on my talks, because the view was breathtaking. After my talks, I "hung out" at a coffeehouse called Armageddon Cafe. I took part in a great discussion about creationism. The only vocal old-earth creationist was clearly feeling a bit "picked on," so I helped out where I could, pointing out to the young-earth creationists that the early church didn't really believe in Genesis days being 24-hours long and that the idea of no animal death before the fall is at best extraBiblical (it is unBiblical in my opinion).
One of the great things about Alaska is that bald eagles are everywhere. Here is a picture I got of an eagle on a streetlight.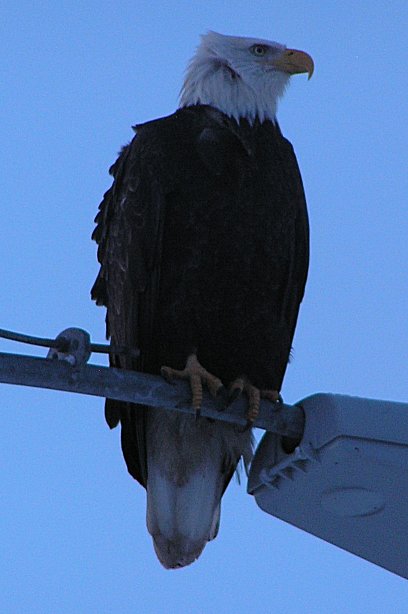 From Homer I went to Anchorage and then Wasilla. In Wasilla, I spoke at another venue that made it hard to concentrate. Here is a part of the view from that venue: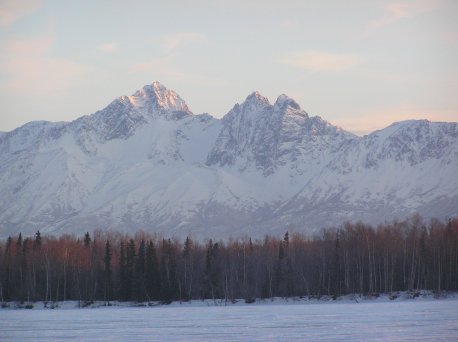 Perhaps the place it was hardest to concentrate was my final stop – Fairbanks. It wasn't the view, even though that was gorgeous as well. It also wasn't the cold. 20 below zero (not counting the wind chill) really isn't that bad. What made it hard to concentrate is that two people came from Barrow to see me. It cost them each $660 just for the plane ticket. Throughout my talks, I wondered if I was worth that kind of investment. In the end, they seemed to think so, but I am still on the fence about it.
So Alaska was wonderful. I had been there twice before – once in the summer and once in the Spring. This, however, was an altogether different experience. In addition to the amazing winter sights, the people were truly amazing. Alaska's state government got something right with this IDEA program. I hope that other states can take a lesson from the "upper one."*
*I decided to start calling Alaska the "upper one" because they kept referring to this part of the U.S. as "the lower forty-eight."