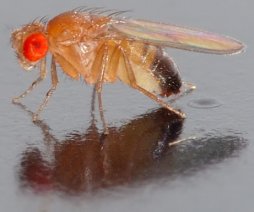 Evolutionists have always looked at nature in an overly simplistic way. They are forced to do so by their preconceived notions. As I mentioned previously, evolutionists cannot begin to appreciate the complex nature of genetics. If they did, they would understand that mutations cannot possibly add information to the genome and, as a result, they would understand that evolution has strict limits. It can only "tinker" with the genetic information that already exists in a population in order to produce individuals that are more fit to survive certain conditions. We call that "microevolution." It cannot produce fundamentally new and innovative biological structures, which is what is necessary for macroevolution to occur. Thus, while microevolution (which has been demonstrated in both nature and the lab) is consistent with what we know about genetics, macroevolution (which has never been demonstrated in nature or the lab) is not consistent with what we know about genetics.
Of course, evolutionists won't give up their overly simplistic view of nature, because it is necessary in order for them to cling to their dogma. As a result, they make many predictions, which time and time again are falsified by the data. Not surprisingly, a detailed study of microevolution in the fruit fly known as Drosophila melanogaster has falsified yet another one of their predictions.
For you to understand the prediction and how it was falsified, you need a bit of background, which starts with bacteria. Bacteria are ideal organisms to study when it comes to microevolution, because they reproduce rapidly, it is very easy to keep and store large populations, and their genomes are simple compared to those of most other organisms. As a result, a lot of detailed studies have been done attempting to understand how microevolution occurs in bacteria. Typically, a population of bacteria is subjected to some kind of environmental stress, and over time, their genomes are tracked to see what happens. One very ambitious version of this kind of study has been going on for more than 40,000 generations now, and not surprisingly, only microevolution has happened. Nothing even approaching macroevolution has occurred.
When you look at the details of these studies, however, some fascinating genetics are revealed. For example, when a bacterium develops a mutation that is clearly advantageous for its conditions, that mutation not only survives in future generations, but it quickly becomes the norm in the population. This makes perfect sense, since the bacteria with the advantage will propagate better than those without the advantage, so after many generations have passed, the population will consist mostly of those that have the advantage. In genetic terms, we say that the mutation becomes "fixed" in the population. Since this process is seen over and over again in such experiments, evolutionists have developed a term for it. They call it a "mutational sweep."
So when bacterial microevolution is studied, it is characterized by mutational sweeps.1 A mutation that makes a bacterium more fit to survive will be quickly fixed, sweeping through the population until, after several generations, nearly every bacterium has that mutation.
Now here's where the overly simplistic thinking of evolutionists comes into play. Evolutionists have assumed that when animals microevolve, the same thing happens. If a mutation occurs that is clearly advantageous for an animal, it will quickly sweep through the population so that, after several generations, nearly all individuals in the population will have that mutation. Why is this overly simplistic thinking? Because bacteria reproduce asexually, while most animals reproduce sexually. Sexual reproduction is quite a bit more complex than asexual reproduction (hence the title of this piece). Thus, to assume that microevolution occurs the same way in organisms that reproduce sexually and asexually is ridiculous. Nevertheless, that has been the reigning view in evolution…until now.
The September 30 issue of the journal Nature has a paper that reports on the results of an experiment in which researchers followed the microevolution of Drosophila melanogaster for 600 generations.2 Each generation, the researchers selected those that had the fastest development from egg to adult and allowed them to breed and produce the next generation. Over the 600 generations of the study, this process produced flies that developed roughly 20% faster than the flies that started the experiment.
So clearly some microevolution had occurred. That's not surprising. Using artificial selection over the course of 600 generations is bound to have an effect. What's interesting, however, is that since the genome of Drosophila melanogaster has been fully sequenced, the researchers could compare the genomes of the evolved fruit flies to those of the fruit flies that began the experiment.
Now if the overly simplistic view of evolutionists had been correct, the results should have been straightforward – whatever genetic changes that produced quickly-developing fruit flies should be fixed throughout the population. Not surprisingly, that's not what the researchers found. As the authors state:
Notably, we observe no location in the genome where heterozygosity is reduced to anywhere near zero, and this lack of evidence for a classic sweep is a feature of the data regardless of window size.
What the researchers conclude from these data is quite reasonable, and it does not bode well for those who are forced to believe in macroevolution.
We conclude that, at least for life history characters such as development time, unconditionally advantageous alleles rarely arise, are associated with small net fitness gains or cannot fix because selection coefficients change over time.
So the researchers offer three choices, none of which look good from a macroevolutionary standpoint:
1. There are few mutations that are wholly advantageous.
2. What wholly advantageous mutations that might exist produce very little advantage.
3. What wholly advantageous mutations that might exist cannot get fixed in the population, because the conditions change too quickly for any mutation to be wholly advantageous for very long.
Remember, if evolution occurs easily in any organisms, it does so in bacteria. Bacteria have short generations and large populations, so they can sample all kinds of mutations. Comparatively, animals have long generations and small populations. As a result, the number of mutations they can sample throughout the course of history is significantly smaller. Thus, if macroevolution is to occur in animals, the process of mutations being naturally selected must be more efficient than it is in bacteria. That doesn't seem to be the case. Instead, observations of microevolution in animals indicate that sexual reproduction causes all sorts of complications that seem to reduce the efficiency of the selection process.
This is not surprising at all to anyone who has a realistic view of nature, but it comes as a big surprise to most evolutionists.
REFERENCES
1. L Notley-McRobb and T Ferenci, "Experimental analysis of molecular events during mutational periodic selections in bacterial evolution," Genetics 156:1493 – 1501, 2000. (Available online)
Return to Text
2. Molly K. Burke, et al., "Genome-wide analysis of a long-term evolution experiment with Drosophila," Nature 467:587–590, 2010. (Available online with subscription)
Return to Text