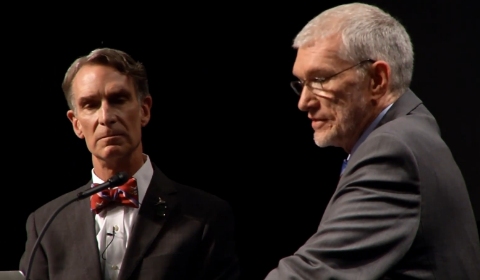 The much-anticipated debate between Bill Nye and Ken Ham happened last night. I had some pretty high hopes for the debate, and some of them were realized. However, most of them were not. If you happened to miss the debate, it is still available as a video, so please feel free to watch it. As I understand it, the video will only be there for a limited time, however, so if you want to watch it, you should probably do so soon.
Let me start by telling you the things I liked about the debate. First, it went off without a technical glitch. With so many people watching it via live streaming, there were all sorts of problems that could have happened. However, I was able to watch clear video with crisp audio the entire time. It was great to think that so many people could enjoy the debate in that format. I also love the fact that it is still available as a video so even more people can watch it!
Second, both debaters were cordial, and they concentrated on making their cases. Neither one of them resorted to name-calling, which is all too common in such situations. Nye repeatedly said that Ham's views were "extraordinary," and he also repeatedly referred to science as it happens "outside" the Creation Museum. However, at no time did he turn his attacks towards his opponent. That was very good.
Third, both debaters brought up some good points. You will see what I mean later on in this post.
Fourth, there were two chances for the debaters to rebut one another, and then there were (pre-written) questions from the audience. As a result, there were opportunities for the debaters to interact with one another. This is where I come to my main problem with the debate. While there were plenty of opportunities for the debaters to interact, they rarely did so. As the title of this post indicates, they spent most of their time talking past one another. That's unfortunate, because a real discussion between the two debaters would have been more illuminating than what happened in the debate. Nevertheless, there were some good (and bad) moments for both sides in the debate, so let me use this post to point out what I thought each debater did well and what I thought each debater did poorly.
Ken Ham won the coin toss and elected to go first. When I debate evolutionists, I always give them the choice of whether or not to go first, since they have the weaker case. Most of the time, they elect to go second in order to get in the "last word." Most debaters will tell you that going second is best. I am not sure why Ham decided to go first, but in the end, I think it was the right thing to do. Nye was there on Ham's "home field," so it was only right to give the "visitor" the best position in the debate.
In his opening presentation, Ham spent far too long on his "observational science versus historical science" shtick. As Nye showed later, this is really a false distinction. Nye specifically rebutted this idea when he said that in astronomy, we are often observing the past. This is true, because regardless of whether or not you are a creationist or evolutionist, you agree that the light (or other electromagnetic radiation) you are observing in your telescopes took time to travel from its point of origin to the earth, so by definition, you are looking into the past. More importantly, observational science is used when trying to tease out what happened in the past. Ham actually admitted that later on in the debate. Thus, the distinction doesn't seem to be a real one.
Now, at the same time, I do think that there is a difference in the confidence of your conclusions when you are dealing with things that happened in the past as opposed to things that happen now. If I want to develop a new drug, for example, I can do controlled studies with animals and people to see how the drug works. If I have doubts about my conclusions, I can change some conditions and do more studies with those new conditions to allow for further testing. Because I have the chance to do repeatable experiments under varying conditions, my conclusions can be pretty solid. When dealing with events that happened in the past, I can't change the conditions and repeat my experiments. I am forced to look at one set of data and simply try to make conclusions about what the data mean. This makes my conclusions less reliable. Nevertheless, in both cases, the science is the same. In my view, the only difference is the confidence with which you can state your conclusions.
Once he got off his observational-versus-historical-science routine, the rest of his presentation was quite good. He kept showing videos of young-earth creationists who are doing real science right now. This was good, since the debate was a result of Nye's anti-science claim that there is no place for creationism in today's society. Those videos destroyed that claim, and throughout the debate Nye never even tried to address how these successful scientists could be young-earth creationists given his stated position.
Ham's best moment, however, came when he talked about predictions that the young-earth creationist model makes and how they have been confirmed by the data. For example, he presented the creationist "orchard" as opposed to the evolutionary "tree of life." He then quoted from two studies. The first was about dogs. It showed that all dogs came from a single common ancestor, which goes against evolutionary expectations but is exactly what was predicted by the creationist model. The second was the human genome project, which showed that all humans belong to a single race. This is diametrically opposed to what was believed by most evolutionists throughout history, which is that there were several races of man, with the Caucasian race being the most "evolved." Ham even quoted from an old high school textbook that used evolution to promote such racism.
Ham also discussed Lenski's long-running evolution experiment. He had video of Dr. Andrew Fabich, a young-earth creationist microbiologist with very impressive credentials, who discussed the experiment. He talked about how it confirms creationist predictions. While Dr. Fabich's credentials are impressive, his presentation was not. He didn't really explain how Lenski's experiments show that no new genetic information can be generated by evolution. Nevertheless, he did get the point across.
Now let me turn to Bill Nye. In his presentation, he concentrated on the age of the earth. This was unfortunate, I think, because it addresses only one type of creationism. Now, of course, this happens to be the type to which Ken Ham subscribes, so perhaps Nye thought it was best to focus on what he continually referred to as "Ken Ham's model." As a result, he brought up a lot of evidence that he thinks opposes a young earth (ice cores, trees, rock layers, order of fossils in the fossil record, distant stars, fossil skulls, and animal migration). All of that evidence, of course, has been addressed by young-earth creationists, and some of what Nye said about it was quite incorrect. I hope to go through some of that in a later post. Nevertheless, to those who haven't studied the issue much, he appeared to have a lot of evidence that contradicted a young earth.
As you would expect, Nye didn't really know much about the creationist view. For example, he said that you wouldn't expect to see layers of rock in the geological record if there were a worldwide Flood. However, a quick review of any creationist literature not only shows that they expect such layers, but that observations of local floods as well as laboratory experiments demonstrate that floods can, indeed, produce layers of sediment that will form layers of rock. He also claimed that the creation model can't make predictions. Of course, this was after Ham had discussed predictions of the creation model and how they have been confirmed by the data. Once again, even a short perusal of the creationist literature shows that the model makes all sorts of predictions, many of which have been confirmed by the data.
Nye tried to make one point that was really bizarre. He discussed Rubidium/Strontium dating in a way that didn't make any sense, but that's not the bizarre part. After discussing this dating method, he then tried to relate it to nuclear medicine. Okay, that's a stretch, but once again that's not the bizarre part. Once he related the dating method to nuclear medicine, he then showed a reference that says there is no place in Kentucky that offers a major for a nuclear medical technologist. He said that he hoped everyone found that troubling. That's the bizarre part. He seemed to be implying that the Creation Museum being in Kentucky was the reason there are no degrees for a nuclear medical technologist in the state. Of course, that's nonsense. It's also wrong. According to the Nuclear Medicine Technology Certification Board, there are two colleges in Kentucky that offer such programs: Jefferson Community College in Louisville and Bluegrass Community & Technical College in Lexington.
Nye did have some good points, however. For example, he discussed the number of animals that would need to be on the ark, according to estimates made by creationists (7,000). He then pointed out how many species there are in existence today (16,000,000 – probably an inflated number). He said if there were only 4,000 years from "Ken Ham's flood" to the present. that would mean 11 new species would have to appear every day in order to produce the number of species we see on earth! Now, of course, his numbers aren't really correct, because the ark wasn't used to save bacteria, viruses, water-living organisms, and plants, all of which are included in Nye's inflated number of species that exist today. However, while his numbers are very wrong, he does point to a real issue with young-earth creationism: diversification of species had to have been much more rapid in the past than it is today. Now, there are good reasons to believe that it was, but nevertheless, I don't know of any really good young-earth model that addresses the specifics rapid post-Flood diversification.
Okay…if you made it this far through this long post, let me finally explain the title. While each presenter made some good (and bad) points in his opening presentation, neither of them addressed much of what the other said. Ham, for example, kept asking Nye where the laws of logic and the uniformity of nature came from. The creation model explains this, the naturalistic model does not. Nye never answered him. Nye, on the other hand, kept asking Ham to explain the various hominid fossils found in the fossil record. Ham never answered him.
In the same way, both debaters seemed to simply ignore the other on many issues. Ham kept saying that he had shown the creation model makes predictions that are verified, and he said there are many other examples. Nye kept saying the creation model makes no predictions. Nye kept saying that the creation model will harm the U.S. when it comes to science and technology. Ham had shown the videos of creation scientists who are doing serious scientific work, and Nye never explained how these scientists could exist if his view is correct. Nye kept calling the creation model "Ken Ham's model" and the worldwide Flood "Ken Ham's flood," even though Ham told him that creation and the flood aren't his ideas. They come from the Bible, and the creation model has been worked on by lots of PhD scientists. Nye kept talking about the Bible as it if had been translated many, many times, at one point even comparing it to a game of "telephone." Ham never pointed out how completely wrong such a statement is.
So in the end, while both presentations were good in many ways, the rest of the debate I found to be rather useless. Even the question/answer session, which is usually my favorite part of a debate, ended up just being another situation where the two debaters talked past one another.
Will this debate change any minds? I doubt it, because each debater never really addressed the other's contentions. However, I do think that the post-debate discussions that people have could change some minds. That's the real value of a public debate. This debate allowed some arguments related to the origins issue to be "put out there." Now it is time to discuss them. That discussion can be incredibly valuable, both scientifically and spiritually.
Please note that Answers in Genesis will have a post-debate commentary. My guess is that it will address the things that Ham did not have the time (or desire) to address in the debate. I am not crazy about such commentary when it is done by the participants, so I am not sure whether or not I will watch it. Nevertheless, I wanted my readers to be aware of it.