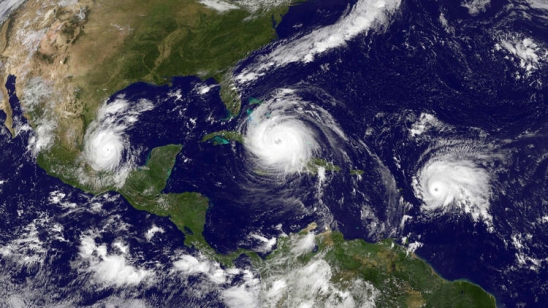 Hurricane Harvey devastated Texas, and hurricane Irma is currently pummeling Florida. In Texas, the death toll is at least 70, and so far, Irma has killed five people. In addition, two other tropical storms are brewing, one in the Atlantic ocean and one in the Gulf of Mexico. Reading social media and the less-responsible news outlets, you would think that this kind of weather is unprecedented. You would also think that it is all the result of carbon dioxide emissions causing global warming, aka "climate change." While the human devastation is real and cannot be ignored, science tells us that these events are not unusual, and they are probably not related to human activity in any way.
Let's start with hurricane Irma. Unlike you may have been told, it is not the most powerful hurricane that has been observed. In fact, that distinction belongs to hurricanes Patricia (2015) and Nancy (1961), which each occurred in the Pacific ocean. Their winds of 215 miles per hour are the highest ever recorded. Of course, Pacific hurricanes do tend to be pretty strong, but Irma isn't even the most powerful Atlantic hurricane. Allen in 1980 had the highest wind speeds of any Atlantic hurricane (190 mph). Currently, Irma (with wind speeds of 185 mph) is tied for second, along with Wilma in 2005, Gilbert in 1988, and the Labor Day Hurricane of 1935.
But what about three hurricanes in the Atlantic at one time. Surely that's unprecedented! Nope. In 1998, there were four Atlantic hurricanes at once. Indeed, three hurricanes at once is something that happens roughly every 10 years. Why haven't you heard that? One reason is that all three rarely make landfall in populated areas. The other reason is that it doesn't help with the "global warming is going to kill us all" narrative.
But surely global warming is contributing to these hurricanes in some way. Well, if it is, there is certainly no way you could tell that from the data.
An excellent summary of global hurricane activity was published in Geophysical Research Letters back in 2011. Here is one of the graphs it presents: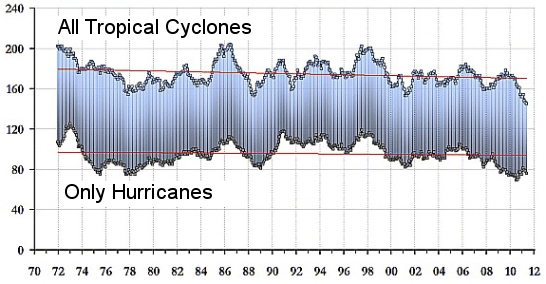 The top data points represent the frequency of all tropical cyclones worldwide since 1972. The bottom data points are only for those tropical cyclones that became hurricanes. The red lines are linear fits to the data. Notice that there is no discernible trend. If hurricanes were related to carbon dioxide emissions, you should see some sort of trend in this graph.
But wait a minute. Perhaps carbon-dioxide-induced warming isn't increasing the number of hurricanes. Perhaps it is just increasing their power. Once again, the data say otherwise. The same study showed how the total accumulated energy in global cyclones has varied with time: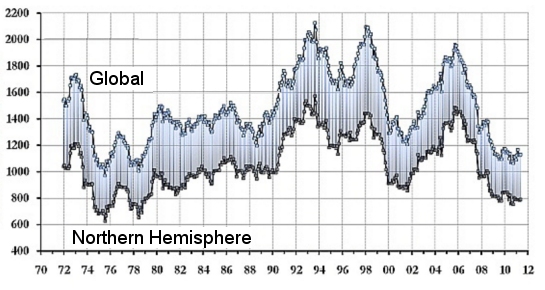 The top data points represent the accumulated energy in all cyclones around the globe, while the bottom data points represent the same quantity for cyclones only in the Northern Hemisphere. If carbon dioxide emissions were making hurricanes more powerful, there should be an upward trend in these graphs. Once again, however, there is no discernible trend.
When people try to use the hurricanes that are happening now to support the idea that human beings are causing global warming, they are not only displaying their ignorance about history. They are also displaying their ignorance about science.