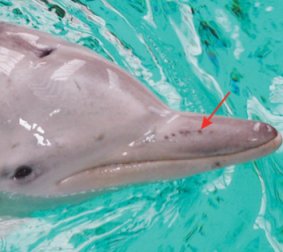 Most dolphins are born with hairs on their rostrum. However, those hairs quickly fall out, leaving empty pits behind. The photograph on the left gives a rather striking example of these pits, which are often called vibrissal crypts. For a long time, there has been controversy in the scientific literature regarding what these pits are. Some have contended that they are leftover vestiges from when the ancestors of dolphins had whiskers1, while others have suggested that they serve some sort of sensory purpose.2
Wolf Hanke and his colleagues set out to settle this controversy for at least one species – the Guiana dolphin (Sotalia guianensis). As they say in the introduction to their study3
These vibrissal crypts are often described as vestigial structures lacking innervation and the characteristic blood sinuses [15,16], which are probably reduced in favour of the sonar system.
However, they indicate that there are some data that contradict this this idea, so they decided to do a detailed study of the Guiana dolphin's vibrissal crypts. First, they examined the microscopic structure of the tissue. They noticed that each crypt had about 300 nerves plugged into it, which is more than the number of nerves plugged into a rat's whisker. It seems obvious that there wouldn't be such a large amount of nerve tissue wasted on a useless structure.
In addition, the tissue looked a lot like the electroreceptors found in the bill of a platypus which allow the platypus to detect electrical fields in the murky water where it lives. Why would the platypus want to sense electrical fields? Because whenever a muscle contracts, it sends out a weak electrical signal. As a result, a platypus can find prey without seeing or smelling it. All the platypus has to do is find the electrical signals being emitted by the prey's contracting muscles.
So the microscopic structure of the tissue in the vibrissal crypts makes it look like the Guiana dolphin uses them to detect electrical signals, just as the platypus does. The scientists decided to put this idea to the test, and the results were astounding.
The team trained a Guiana dolphin named Paco to place his rostrum a few inches away from two electrodes. The team learned that Paco could determine when the electrodes had voltage applied to them and when they did not. The only way he could have known that is if he could detect the electric field between the electrodes. As a result, they performed many other tests and found that Paco could sense electrical fields as low as 4.6 millionths of a volt per centimeter. To give you an idea of how tiny an electrical field that is, it is about 10,000 times weaker than what you feel when you touch a 12-volt battery with your tongue! So not only is the Guiana dolphin able to use its vibrissal crypts to detect electrical signals, it is able to detect very weak electrical signals.
This research gives yet another example of how supposedly vestigial structures are not vestigial at all, but it also poses a problem for the hypothesis of evolution. According to the hypothesis, dolphins are supposed to have evolved from some sort of deer-like land mammal. Well, the problem is that no deer-like mammal (currently living or in the fossil record) is known to have the ability to sense electrical fields. In fact, the only other mammals that are known to have this ability are the egg-laying mammals, such as the platypus. These are supposed to be "primitive" mammals, while the deer-like mammals from which dolphins supposedly evolved are supposed to be much more advanced. Thus, in order to explain this observation, evolutionists must believe that the ability to detect electrical fields evolved out of the mammals that produced the dolphins' deer-like ancestor, but then somewhere along the line, the ability re-evolved as the deer-like mammals became dolphins.
Of course, that's not the end of the story. There are other animals that have the ability to detect very weak electrical fields. Sharks, for example, can detect electrical fields as low as 5 billionths of a volt per centimeter.4 Sharks and dolphins, however, don't share any hypothetical ancestor that had this ability. As a result, evolutionists are not only forced to believe that this elegant ability can evolve away and then reappear again in the evolution of mammals, but they are also forced to believe that it can evolve independently in completely unrelated lineages! Of course, such wishful thinking is not a problem for most evolutionists, since they must believe that the eye evolved independently up to 60 different times!5
I am glad that I follow the data and realize that structures like the dolphin's vibrissal crypts are designed. I just don't have the kind of faith it takes to be an evolutionist!
REFERENCES
1. Yablokov, AV and Klezeva,l GA, "Whiskers of whales and seals and their distribution, structure and significance," In Morphological Characteristics of Aquatic Mammals, Kleinenberg SE, editor, 1969, pp. 48-81 330:208-211, 2010.
Return to Text
2. Mauck B, et. al., "Selective heating of vibrissal follicles in seals (Phoca vitulina) and dolphins (Sotalia fluviatilis guianensis)," Journal of Experimental Biology 203:2125-2131, 2000
Return to Text
3. Nicole U. Czech-Damal, et. al., "Electroreception in the Guiana dolphin (Sotalia guianensis) ," Proceedings of the Royal Society B 279:663-668, 2012
Return to Text
4. Malcolm Jobling, Environmental Biology of Fishes, Springer 1994, p. 32
Return to Text
5. Richard Dawkins and Yan Wong, The Ancestor's Tale: A Pilgrimage to the Dawn of Evolution, Mariner Books, 2005, p. 588
Return to Text