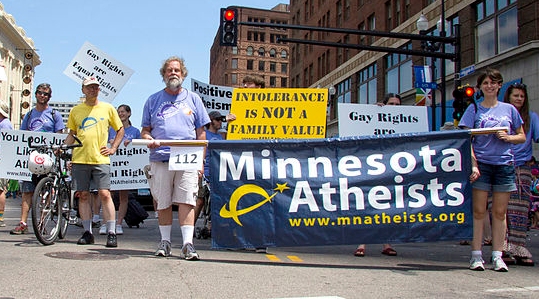 I have written about Larry Alex Taunton before (here, here, and here). I don't think I had heard his name until I read his book, The Faith of Christopher Hitchens. I enjoyed his writing style and his intellectual approach to Christianity, so I read another one of his books, The Grace Effect. I have since moved to his works found on the internet, and I ran across an excellent piece entitled "Listening to Young Atheists: Lessons for a Stronger Christianity." I strongly recommend that you read it.
In the article, he discusses the results of a project created by his organization, Fixed Point Foundation. The project's participants simply asked young atheists to tell their story. They wanted to hear what caused these young people to become atheists. What they learned was no surprise to me, but I think it is worth discussing, especially for those who do not have a lot of experience with atheists.
In my opinion, the most important result that came from the project was:
Most of our participants had not chosen their worldview from ideologically neutral positions at all, but in reaction to Christianity. Not Islam. Not Buddhism. Christianity. (emphasis his)
This is certainly consistent with my experience. Most of the atheists I know were raised in the church and became atheists in reaction to what they perceived as the church's failings. What were those failings? I suspect that most Christians will be surprised to learn them.
According to Taunton, the most common complaint was the superficial nature of what was presented in church. He highlights a young man (Phil) who was once the president of his church youth group. At the time the article was written, he was the president of his college's Secular Student Alliance. What caused this shocking turnaround? Based on Taunton's discussion with Phil, it seemed to be the result of a conscious decision by his church to remove a Bible-focused youth minister who was intent on teaching the youth about Scripture to a young, hip youth pastor who attracted a large number of teens to the church but knew very little about the Bible. As Taunton puts it:
When our participants were asked what they found unconvincing about the Christian faith, they spoke of evolution vs. creation, sexuality, the reliability of the biblical text, Jesus as the only way, etc. Some had gone to church hoping to find answers to these questions. Others hoped to find answers to questions of personal significance, purpose, and ethics. Serious-minded, they often concluded that church services were largely shallow, harmless, and ultimately irrelevant.
There are two lessons I think the church can take from the results of this project:
1. You do not further the cause of Christ by diluting His message. Christ's message is not easy to hear:
Then Jesus said to His disciples, "If anyone wishes to come after Me, he must deny himself, and take up his cross and follow Me. For whoever wishes to save his life will lose it; but whoever loses his life for My sake will find it." (Matthew 16:24-25)
When we dilute that message so it becomes "more palatable," we drive people away from Christ.
2. Pastors must be able to answer serious questions posed by serious-minded people. This includes questions about origins, sexuality, why someone should believe the Bible, etc. No pastor can be expected to be able to answer all such questions, but the church should have members who can. Pastors need to know who those members are so they can direct people with questions to those who can help them find the answers they need.
In my humble opinion, if the church can address the two points listed above, there will be significantly fewer atheists in the world.