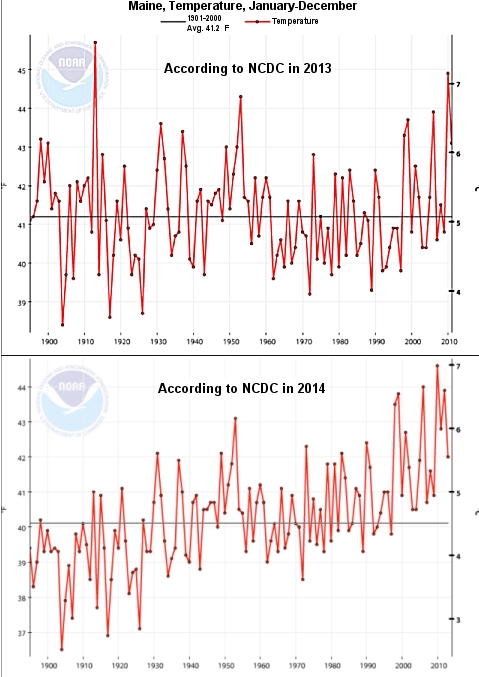 In 2013, certified consultant meteorologist Joseph D'Aleo was putting together a talk and wanted to show a graph that illustrated how the average temperature of the state of Maine had changed over time. He went to the National Oceanic and Atmospheric Administration's (NOAA) National Climatic Data Center (NCDC) and downloaded the data. As shown in the top graph, the average temperature showed no trend (warming or cooling) for more than 100 years. This year, he was preparing a talk and wanted to update the graph. He went back to NOAA's NCDC and downloaded the exact same temperature record, including more recent years.
The change was dramatic, as shown in the bottom graph. The data showed a clear warming trend. Was this dramatic changed caused by more recent years added to the new graph? No. It was caused by the old data! Between the times D'Aleo had downloaded the data, the temperatures for some of the previous years had been lowered, and the temperature for some of them had been raised. However, it seems that more of the earlier years were lowered and more of the later years were raised (or lowered less). As a result, the message of the graph had changed remarkably. Where just one year previously, the data showed no warming over the past century, that same data now show a significant warming trend over the exact same time period! As he states:
Does anybody know what the REAL temperature of Maine is/was/is supposed to be? I sure as [**BLEEP**] don't. I don't think NCDC really does either.
What caused Mr. D'Aleo to share this experience? It was a revelation that started with Steven Goddard (aka Tony Heller).
In a web post, Mr. Goddard was comparing the NCDC's "raw" temperature data to their "final" temperature data. What's the difference between the two? The NCDC has temperature-measuring stations set up all around the U.S. They automatically read the local temperature and send that result to the NCDC's database. The actual reading that comes from the temperature-measuring station is the "raw" data. The problem with such a system, of course, is that every once in a while, there is a glitch. Sometimes, there is a power outage at a station. Sometimes, there is a communication error. Sometimes, the station is down for maintenance. As a result, there are times when the station doesn't report any data at all.
What is the NCDC to do about this? If they just left the data blank, that would be a problem, because it would skew the average temperature for that area. As a result, they have a computer code that estimates the temperature that the station would have sent if it had been sending data at the time. This might sound a bit strange, but it makes perfect sense. Missing data would skew average temperatures, so something has to be put in the missing data's place. An estimate is better than something we know to be wrong. As a result, the NCDC's "final" data include those estimates.
Goddard wrote a program that went through the database and determined when the NCDC used the actual temperature as measured by the station and when it used an estimate. According to his analysis, before about 1970, roughly 10% of the data used in the "final" data set were estimates. This makes sense. However, as time went on, more and more estimates were used. The percentage of estimates picked up strongly in the 1990s, and currently, about 40% of the data used in NCDC's "final" data set are estimates. They are not real data. That, of course, is shocking.
There are many people, however, who don't think Steven Goddard is a reliable source. This is the first I have heard of him, so I have no opinion on that matter. As a result, most people who are interested in the global warming issue didn't pay his claim much mind. Indeed, some people who are very skeptical of the current global warming hysteria (like Anthony Watts) dismissed Goddard's claims. However, it didn't take much time for people to figure out that he is, in fact, onto something.
Paul Homewood, for example, checked the temperature record for Luling, Texas (the top weather station on NCDC's list). He showed that there is definitely a problem. There were far too many times estimates were used, and they tended to make the average temperature artificially high. He found similar problems for the stations in the state of Kansas. Whether or not Goddard's analysis is completely correct, something is clearly going on. There are at least two states (Kansas and Maine) as well as one specific temperature-measuring station (Luling, Texas) where way too much estimated data are being used, and it seems to skew the trends to show artificial warming.
Judith Curry, who I consider to be one of the most reasonable voices in the climate change discussion, has an excellent post on this. She says that Goddard has clearly made some analysis errors, but his overall message is correct – something is wrong with the NCDC's "final" data. She also made two very important statements that I think are worth repeating.
Her first statement is in regards to the fact that even those who are skeptical of global warming hysteria initially dismissed Goddard's claim, because they considered him an unreliable source. Indeed, Anthony Watts initially posted that Goddard was wrong. However, because others (like Paul Homewood) did more digging, Watts eventually admitted that his initial reaction had been too hasty. Now it seems that most people who have looked at the data agree that something is dreadfully wrong. As Curry points out:
…the main point is that this group is rapidly self-correcting – the self-correcting function in the skeptical technical blogosphere seems to be more effective (and certainly faster) than for establishment climate science.
Curry should know. She was a part of the "establishment climate science" for a long time and is now a part of the skeptical technical blogosphere. The other statement is more to the point. Here is what she wrote:
This incident is another one that challenges traditional notions of expertise. From a recent speech by President Obama:

"I mean, I'm not a scientist either, but I've got this guy, John Holdren, he's a scientist," Obama added to laughter. "I've got a bunch of scientists at NASA and I've got a bunch of scientists at EPA."

Who all rely on the data prepared by his bunch of scientists at NOAA.
Based on the fact that there is something wrong with the NOAA's NCDC "final" data, this could be a real problem.