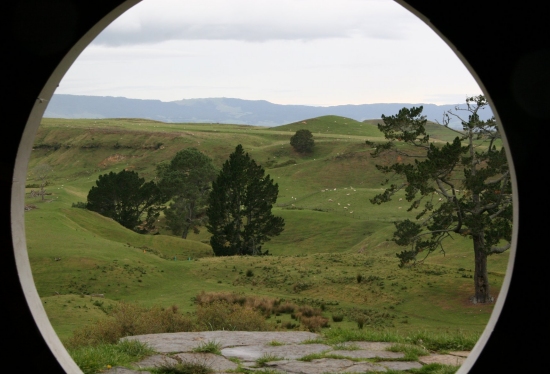 If you hadn't already guess it by now, I am a nerd. As a result, you will probably not be surprised by the fact that I have been a fan of J.R.R. Tolkien's The Lord of the Rings since I first read the series in the late 1970s. More importantly, however, I am married to one of the world's biggest fans of the trilogy. She knows pretty much everything about the books and their talented author, and in her mind, they tell the best fictional story ever told. She also liked the movies that were made based on the books, even though she had some issues with them. As a result, when we went on a speaking tour of New Zealand several years ago, we wanted to see at least some of the sites where the films were made.
Pretty much the only place that looks anything like it did in the movies is Hobbiton, the town where Bilbo Baggins lived. My wife and I toured it eagerly and were thrilled to learn that we could actually go into Bilbo's "home," Bag End. In actuality, the inside of Bag End seen in the movies wasn't at the Hobbiton set. It was on a sound stage somewhere else. However, the owners had excavated a small cave behind Bag End's entrance. We went in, and she took the photo you see above, allowing us to always remember the view from Bag End.
Why am I telling you all of this? Because I ran across a very interesting article entitled, I Was an Atheist Until I Read "The Lord of the Rings." The title alone is intriguing enough, but longtime readers of this blog are probably aware that I collect stories about atheists who became Christians. If this story isn't a perfect fit for my blog, then, I don't know what is!
Continue reading "An Atheist Becomes a Christian After Reading The Lord of the Rings"