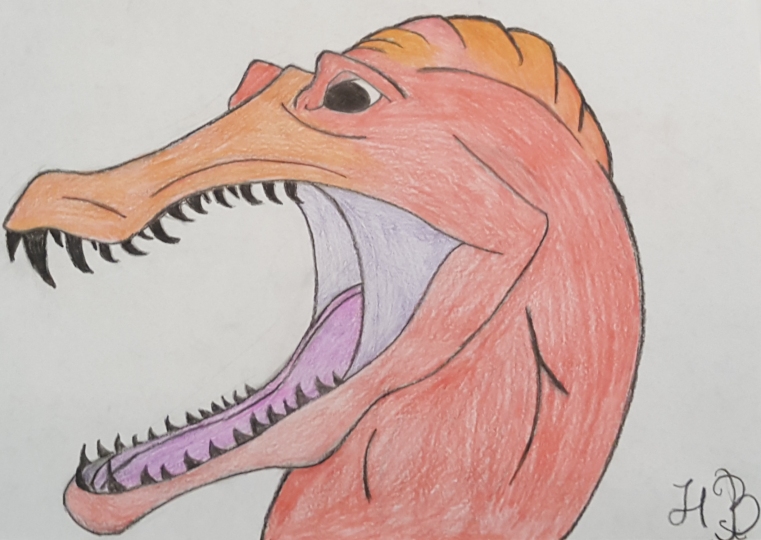 I love going to homeschool conventions. This past weekend, I spoke at the Texas Homeschool Convention, and it was a wonderful experience. I got to talk with a lot of interesting people, like the great granddaughter of Maria von Trapp. I also got a headache from discussing quantum physics, mechanistic naturalism, and determinism with two of the philosophers I mentioned in a previous post. Of course, I also got to talk with students who have used and are using my courses. One of those students was incredibly enthusiastic, asking me several questions about science. During the course of the convention, she drew me the wonderful picture you see above, which is of a spinosaurus. He is the villain in a story she is writing.
Speaking of dinosaurs, I got a very interesting question during one of my talks. A student who was obviously interested in science asked if I had heard about the pregnant Tyrannosaurus rex that had recently been found. I was surprised by the question for two reasons. First, I had not heard about it, and I try to keep up on the latest events in science. The fact that this student knew a current event in science that I had not heard about really surprised me. Second, it seemed strange that someone would say a Tyrannosaurus rex was pregnant, since all that we know indicates it was a reptile, meaning it laid eggs. I think the term "pregnant" refers to carrying a developing fetus, so it wouldn't be applied to an egg-laying animal.
Due to the wonders of in-flight internet, I was able to investigate the student's question on my flight home. Sure enough, there were a lot of news stories about a pregnant Tyrannosaurus rex (see this one, for example). However, when I found and read the scientific paper upon which the stories were based, it became clear to me that the news outlets were doing their typically less-than-stellar job of reporting on science.
First, unlike what is implied by the headline given in the story above, the Tyrannosaurus rex discussed in the scientific article is not a recent find. It was unearthed by paleontologists Dr. Jack Horner and Dr. Mary Schweitzer sixteen years ago. It was the one in which Dr. Schweitzer found soft tissue, which is probably common in dinosaur bones. In one of her papers on that fossil, she noted a type of bone that looked like something found only in female birds prior to and during the egg-laying process. The bone type is called medullary bone, so this led Schweitzer and her colleagues to write:
Because medullary bone is unique to female birds, its discovery in extinct dinosaurs solidifies the link between dinosaurs and birds, suggests similar reproductive strategies, and provides an objective means of gender differentiation in dinosaurs.
Second, if her interpretation of the bone type is correct, the Tyrannosaurus rex wasn't really pregnant – at least not in the way the term is colloquially used. It was just in the process of making or laying eggs and could therefore be definitively identified as a female.
That paper was published in 2005, so why all the fuss now? Well, since chemicals produced by dinosaurs have been routinely found in many dinosaur fossils, she and her colleagues decided to chemically analyze what they interpreted as medullary bone in the Tyrannosaurus rex fossil. In birds, medullary bone contains a specific chemical, keratan sulfate, which does not appear in any other type of bone. The presence of that chemical in the fossil would confirm that the bone is medullary bone, which would add more weight to the interpretation she proposed in 2005.
They ended up finding strong evidence that the keratan sulfate is present in the fossil. Specifically, they used different chemicals that tend to bind strongly to bones that contain keratan sulfate. They showed that those chemicals bound as strongly to the fossil as they do to medullary bones in birds. As a result, it seems pretty clear that the bone she originally interpreted as medullary in the Tyrannosaurus rex fossil is, indeed, medullary bone. Thus, its presence in any dinosaur bone is probably a great indication that the bone comes from a female dinosaur that is just about ready to lay eggs or just finished laying them.
Does this "solidify the link between dinosaurs and birds," as Schweitzer suggests? Not really. Most likely, it means that dinosaur eggshells contained a lot more calcium than the eggshells of today's reptiles. Medullary bone serves as a calcium reservoir for producing the hard eggshell found in today's birds. If dinosaur eggs also had hard, calcium-rich eggshells, the dinosaurs that laid them would need medullary bone during the egg-laying process.